Exclusive
'Hysterically Crying!' Secret Fallout Of Leah Remini Scientology Special Revealed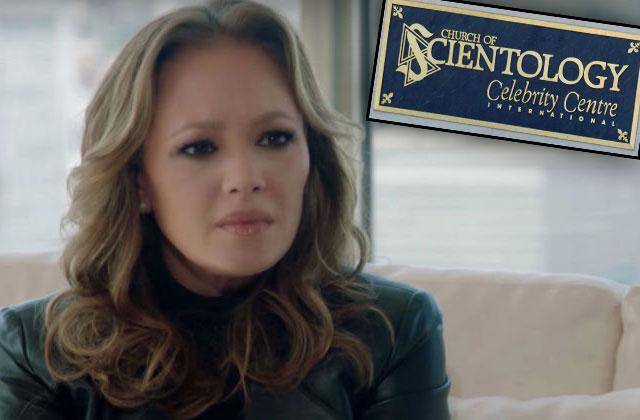 Leah Remini's latest Scientology bombshell has sent shockwaves through the country. But after her A&E docuseries aired, RadarOnline.com has learned, the actress was shocked to get an overwhelmingly positive response!
Leah Remini: Scientology and the Aftermath premiered Tuesday November 29, and an insider told RadarOnline.com that the Remini family had braced for backlash from the Church of Scientology and its members over the explosive allegations in the show.
Article continues below advertisement
However, a source close to Remini exclusively told RadarOnline.com, "She has gotten such an outpouring of support. It's been incredibly peaceful, with nothing but love. People have reached out to Leah and her family saying they are hysterically crying because it touched them so deeply."
Meanwhile, the Church of Scientology is still on the attack. In response to her allegations, a church spokesperson said, "Leah Remini has repeatedly disparaged and exploited her former faith for profit and attention through a series of failed publicity stunts, culminating in her reality TV show featuring a cast of admitted liars who to make a buck have been telling differing versions of the same false tales of abuse for years."
They even created a website bashing her claims.
To top it all off, Remini claims the church sent several letters to A&E calling Remini a "has been actress" and a "spoiled entitled diva." She's demanded $1.5 million in retribution, but the Church's website states that is just an attempt to "extort" her former faith. The website insists that the "Church invoked its First Amendment right to respond to her false claims with the truth."
Article continues below advertisement
As RadarOnline.com reported, Remini's show aired some of the most shocking allegations about Scientology yet, in interviews with former Scientologist mother and daughter Bonny Elliot and Amy Scobee. Scobee claimed she was raped as a young teen at the hands of a married Church member. Elliot spoke out about claims of being disconnected from her daughter, Scobee, when Scobee left the Church and was allegedly labeled a suppressive person as a result. Elliot said she also eventually left the Church after she had suicidal thoughts from no longer being able to be connected to her daughter.
Despite the strong response from Scientology, Remini's family is standing firm in their fight against the Church.
The source said, "People love that someone is speaking up for those that don't have a voice."
"And she hasn't had the same back lash she had last time," with her book, Troublemaker, the source told RadarOnline.com. "At least not yet."
We pay for juicy info! Do you have a story for RadarOnline.com? Email us at tips@radaronline.com, or call us at 800-344-9598 any time, day or night.