Missing 'Bridalplasty' Star's Body Found Facedown In Suspect's Backyard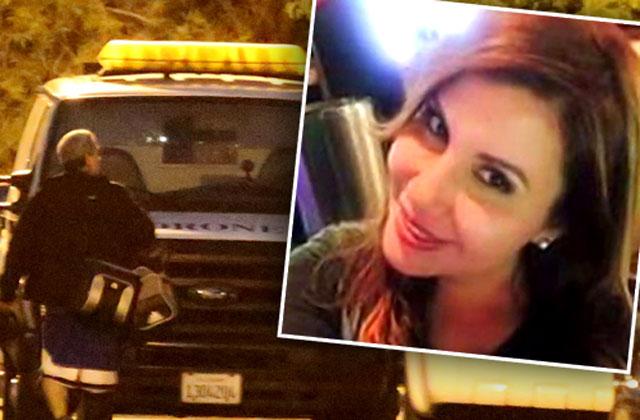 Police in Lennox, Calif., confirmed that they have arrested 34-year-old Jackie Jerome Rogers on suspicion of murder after he revealed during questioning that the body of missing nurse and former reality star Lisa Marie Naegle was at his home near Los Angeles International Airport, USA Today reports.
"We can confirm a body which we believe is Lisa Marie was discovered in a shallow grave at the suspect's home," police spokesman Sal Ramirez revealed Tuesday night. "The detectives strongly believe it is her."
Article continues below advertisement
According to local newspaper Torrance's Daily Breeze, Rogers was a student in one of Naegle's nursing classes.
Derek Harryman, Naegle's husband, reported Lisa missing after she failed to return home from a party on Saturday night and failed to show up for her nursing class the next day.
Harryman told the Daily Breeze that she had gone to a birthday party at a Torrance beer hall. The last time she contacted him, around 2:00 a.m. Sunday morning, Lisa sounded "really, really drunk" saying she'd "get some food and then I'll be home." But the former Bridalplasty contestant never returned.
During the investigation, security camera footage revealed that Naegle left the beer hall with Rogers and got into his SUV.
"We went and we looked at the film and she left with him," Naegle's brother, Rafael Chavez, said. "He told everybody he left without her."
Naegle's sister, Naegle-Kaimona, told KABC-TV that the family then confronted Rogers, who kept changing his story.
"While he was talking to us and telling us his story, multiple different times he said he absolutely did not go home with her or did not take her home," Naegle-Kaimona said.
Article continues below advertisement
When faced with security footage evidence, Rogers admitted that Naegle had been in his car, but insisted she got out minutes later. Nevertheless, his suspicious behavior led the family to contact authorities.
Meanwhile, Harryman pleaded for the safe return of his wife on Facebook, writing: "I want to send out a huge thank you to all the hundreds of people out there trying to help and showing tremendous support for my missing wife and for my family in this horrible time. I will send updates as soon as possible. I love each and everyone of you guys. Thanks again for everything. Please message me with any information possible or clues to her whereabouts."
Naegle's body was later found naked and facedown in a shallow grave at Rogers' Lennox home. According to reports, Naegle's head had been struck seven times with a hammer.
The coroner's office has been notified and will provide an official toxicology report.
We pay for juicy info! Do you have a story for RadarOnline.com? Email us at tips@radaronline.com, or call us at (866) ON-RADAR (667-2327) any time, day or night.