Exclusive
Drug Trafficking, Alcohol Abuse & More! America's Sweetheart Simone Estranged From Troubled Older Sister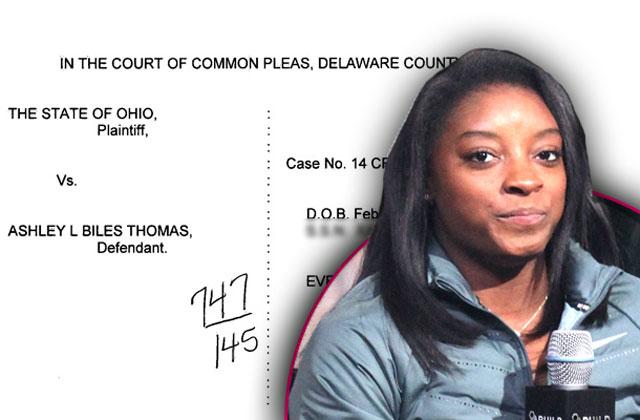 Simone Biles is America's newest sweetheart, but her older sister may be America's worst nightmare!
Ashley Biles Thomas has been estranged from the Olympic gymnast since 2003 when their grandparents only adopted Simone and Adria. Ashley and their brother Tevin went to live with their Aunt Harriet in Ohio — separating the siblings by hundreds of miles.
Since then, Simone racked up countless gold medals, and Ashley racked up an extensive rap sheet!
Article continues below advertisement
RadarOnline.com obtained bombshell court documents detailing 26-year-old Ashley's troubled life, and can exclusively reveal that the mother-of-one has been arrested for drug trafficking and operating a vehicle while intoxicated among other charges!
Ashley was first charged with drug trafficking and possession after a 2014 routine traffic stop for unsafe driving. She was with her boyfriend (although she told cops he was her brother) and cousin at the time.
"I noticed all three subjects were avoiding eye contact with me and S3 was nervously lighting a cigarette as I approached," the state trooper detailed in his report after he pulled them over for an unsafe lane change. "I requested Tpr. J. Beynon to respond to my location with his drug sniffing canine Miki and he arrived as the subjects were still trying to locate the vehicle's registration and insurance papers."
Article continues below advertisement
He then asked Ashley to step outside the vehicle, and patted her down. She told him that they left Columbus around noon to "find out what time a car auction started" and that the car belonged to her brother's fiancée.
"I found S1's story of making a four hour round trip just to find out what time an auction stated to be unbelievable and I returned to the vehicle to speak with S2," the report read. "He stated they were coming from Toledo and then s2 interrupted to say they were coming from Detroit. S2 then stated that the car belonged to his wife and the girl driving was his girlfriend."
"At this point it was obvious that all three subjects were continuously lying and Tpr. Beynon deployed K9 for a free air sniff of the vehicle," the report continued.
At that point, 90 oxycodone pills and 60 oxymorphone pills were discovered in the car, and all three were arrested.
Ashley entered a guilty plea and was sentenced to 90 days in jail, but was credited with three days served. Police reports also indicate she was placed on probation for four years.
Article continues below advertisement
Her boyfriend was sentenced to two years in prison, and her cousin was sentenced to 90 days in jail and five years probation.
Shortly after, Ashley was arrested for OVI after she blew a .089 BAC in 2015. Her license was still suspended at the time.
She was found guilty of OVI, and was sentenced to 3 days in FCCC jail. Her license suspension was extended by 180 days as well.
Simone is usually quiet about her two older siblings, but recently posted a photo with Telvin. She has yet to acknowledge Ashley aside from her memoir.
We pay for juicy info! Do you have a story for RadarOnline.com? Email us at tips@radaronline.com, or call us at (866) ON-RADAR (667-2327) any time, day or night.