'I'm Not Coming!' Rob Kardashian Ditches Family's Baby Shower In Epic Tantrum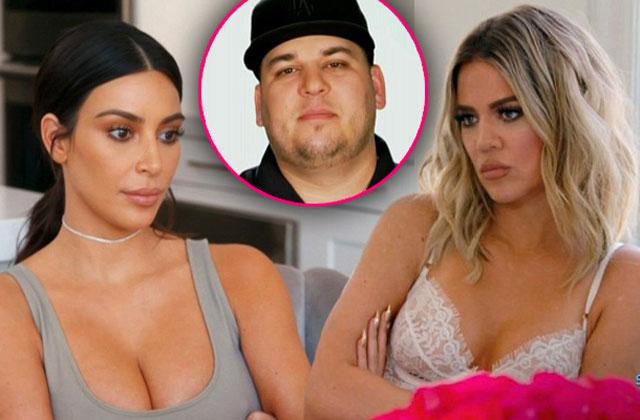 On his bumpy road to fatherhood, Rob Kardashian dropped the ball again by flaking on his family's baby shower.
During last night's episode of Keeping Up with the Kardashians, the 29-year-old recluse's sisters decided to throw an epic bash to celebrate the upcoming arrival of Dream Kardashian.
"I'm so appreciative," the typically morose Rob gushed.
Later, as the big day drew closer, Rob and his baby mama Blac Chyna began their usual pattern of nasty fighting. Kim, Khloe and Kourtney took the Instagram model's suggestion to make the party just for daddy-to-be Rob.
Article continues below advertisement
As the entire family, also including momager Kris, younger sisters Kylie and Kendall, and Kourtney's baby daddy Scott Disick, waited for him to arrive to the luxurious soiree, the sock entrepreneur called Kim in a huff.
"I'm not coming to the shower if Chyna's not coming," he fumed.
Even family peacekeeper Kim was pushed over the edge by her brother's bratty, ungrateful behavior.
"I can't take this s***," she seethed. "I can't tiptoe anymore. I've had it!"
A few days later, Rob realized he had overreacted, and sent his mother balloons.
"I am so sorry that I missed everything," he told Kris in a phone call. "I'll make up for it."
"I have the best kids," Kris inexplicably gushed to friends visiting her home.
In typical fashion, the family gave Rob another chance with a make-up baby shower. This time, he and Chyna showed up.
Baby Dream was spoiled with an Hermes robe, a kiddie Range Rover, and other designer gifts. The only luxury item missing was a Birkin bag, Scott quipped.
Article continues below advertisement
"Pretty much it was a misunderstanding," Rob sheepishly explained to an upset Khloe. "I thought you were trying to be shady."
Meanwhile, Kris got into a car accident, leaving her car totaled and her body sore.
Kim decided to act as momager for the week so her mother could rest. Though she thought it would be easy, the mother of two was immediately overwhelmed.
Khloe accused her of favoring Kylie, who shot the cover for Complex magazine. (I need you to do raunchy, like a** out," Kim told her teen sister on set.)
Kim and Khloe decided Kris needed a team to help her manage all five daughters.
The next episode will be a Rob & Chyna special capturing Dream's birth — but as expected, drama will ensure, especially between Kris and Chyna's spitfire mother, Tokyo Toni.
Will you watch Rob and Chyna in the delivery room? Sound off in the comments.
We pay for juicy info! Do you have a story for RadarOnline.com? Email us at tips@radaronline.com, or call us at (866) ON-RADAR (667-2327) any time, day or night.