'I'm Not This Person!' Kim Kardashian's Severe Anxiety EXPOSED On 'KUWTK'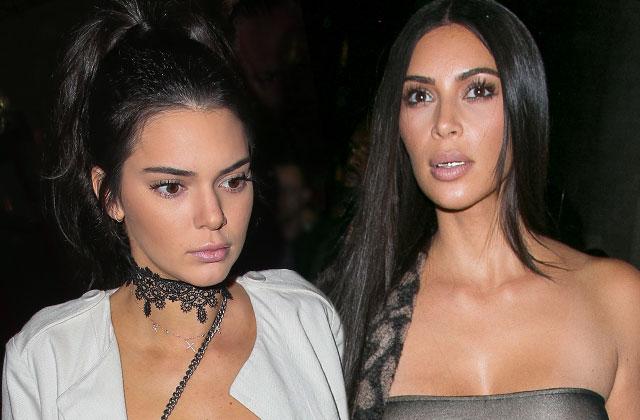 Long before the her traumatizing robbery in Paris, Kim Kardashian had been battling severe anxiety.
On last night's episode of Keeping Up with the Kardashians, the reality star reveals that she's been suffering from anxiety and fearful thoughts.
Over lunch, she confides in bestie Jonathan Cheban, "I have been having anxiety about every last thing. Like what if a car flips over and hits me? I think we can get crushed." Though she can't explain where they are coming from, these uncontrollable thoughts are making her life more difficult. "I'm not this person!"
Article continues below advertisement
And she isn't alone. Kim's sister Kendall Jenner is in New York City for a photo shoot when she calls momager Kris nearly in tears.
"Have you heard of sleep paralysis?" she asks Kris. Kendall explains her symptoms which she feels are exacerbated by her fear of flying. "It feels like my heart stops. I can't move my body." Kris tries to calm her down but Kendall quickly loses her patience. "I'm tired of arguing with people about this. People say I'm fine but I don't feel fine! When i'm finally rushed to the hospital you guys are going to believe me!"
Later, when Kendall returns home she sits in the kitchen with Kris who reminds her that the nature of her job comes along with flying all over the world.
"I don't know if I'm going to be able to do that," Kendall says. "I'm scared. I'm freaking out!"
Kris admits Kendall's anxiety is becoming a problem. "Sometimes it's been so bad she won't get on the plane." she says, recalling a time she had to fly to Paris from Los Angeles just to get Kendall to go through with the travel plan before returning home.
Article continues below advertisement
With her concern increasing for both her daughters, Kris has a talk with Kim: "You seem very anxious and I don't know where it comes from. Kendall feels very scared and not in control of her situation and I think you're feeling emotionally out of control."
Even though therapy isn't really Kim's "thing," she agrees to see an anxiety specialist with Kendall. "I pride myself in having my s**t together all of the time and with how bad things are with Kendall we have to do something."
Later, Kendall and Kim each describe the nature of their anxieties and how they manifest to the specialist.
"I'm always thinking about car accidents. Always. It drives me crazy," Kim explains. "I just want to get past my anxiety and live life like i was before."
Kendall digs deep into her own issues and how they are holding her back from her career goals. "Sometimes I literally, randomly get panic attacks especially when I'm about to get on the plane. . .I have weird sleep paralysis that happens to me on the plane."
Article continues below advertisement
The therapist suggests they induce a panic attack so that they each know what to do when it occurs and can manage the symptoms so that it's less scary when they're actually having them. While this doesn't work well for Kendall, Kim sees benefits after only one session with the therapist. After taking a drive with the anxiety specialist, Kim is able to point out her intrusive thoughts and gains a better understanding of their origin.
To help her sister, Kim suggests a meditation session. In meditating, Kendall seems to find relief. "I feel like it might actually help. I really liked it."
Keeping Up with the Kardashians airs Sundays at 9pm on E!.
We pay for juicy info! Do you have a story for RadarOnline.com? Email us at tips@radaronline.com, or call us at (866) ON-RADAR (667-2327) any time, day or night.