Exclusive
Protecting A Predator? Top-Secret File Reveals What Hillary Knew About Weiner 'Crimes'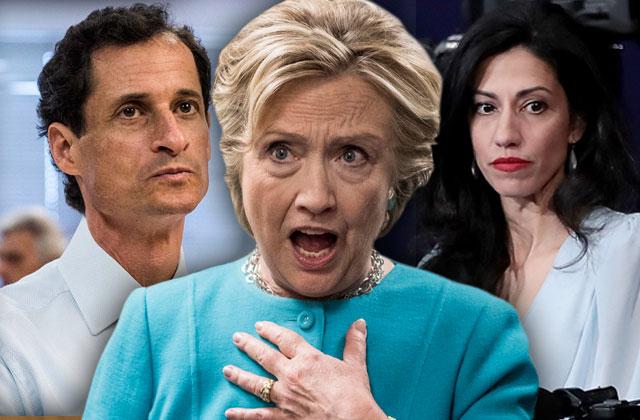 Hillary Clinton and Huma Abedin have known for years that sex perv Anthony Weiner was up to no good, and still they kept him in their inner circle! But even more shockingly, a newly uncovered top-secret intelligence dossier obtained by RadarOnline.com suggests that Clinton worried he'd committed "crimes" but didn't care — because she was using him as a pawn in her devious political games.
Radar recently obtained a top-secret Italian intelligence file compiled by the Agenzia Informazioni e Sicurezza Esterna after a meeting with the Russian SVR, formerly the KGB. The Russians claimed to have hacked Clinton's emails, and handed them over to their Italian allies.
Article continues below advertisement
One alleged email in the massive trove show an exchange between Clinton and Abedin in May 2011, the month Weiner's sex kinks went public as he published a photo of his underwear-clad genitals on Twitter.
"You have to stay focused now," the message, which was originally written in Italian and translated for Radar, reads.
"Let's put Anthony aside. We must verify that there are no crimes. We will ensure that it will come back in our favor."
"I told you he was the person we needed," the message continues. "He didn't notice anything and he has played our game."
Following that message, an intelligence officer offered their interpretation of the missive: "They are talking about Anthony Weiner, Democratic, ex deputy and husband of Abedin, involved in the sexual scandal after sending hard pictures on social media. From the text, it seems like H.C. would like to leverage in her favor the scandal."
Article continues below advertisement
The report offers no explanation as to why or how Clinton could leverage the scandal, or what "game" she allegedly believed Weiner was playing.
What is clear, however, is that five years later, Weiner continues to be a massive concern for Clinton's campaign.
In the final weeks of the election, it was alleged that he had been sexting with a teen girl.
The resulting investigation sparked a reopening of Clinton's FBI email probe, when agents found emails on a laptop used by Abedin and Weiner. But Director James Comey announced Sunday that he had found nothing of note in the emails.
Weiner has reportedly checked into rehab.
Story developing.
Additional reporting: Melissa Cronin, Doug Montero, James Robertson, Lachlan Cartwright, Patty Gonzalez, Nick Erickson.
We pay for juicy info! Do you have a story for RadarOnline.com? Email us at tips@radaronline.com, or call us at (866) ON-RADAR (667-2327) any time, day or night.