Is Amber Okay? Portwood Flips Out On Fans In Bizarre Videos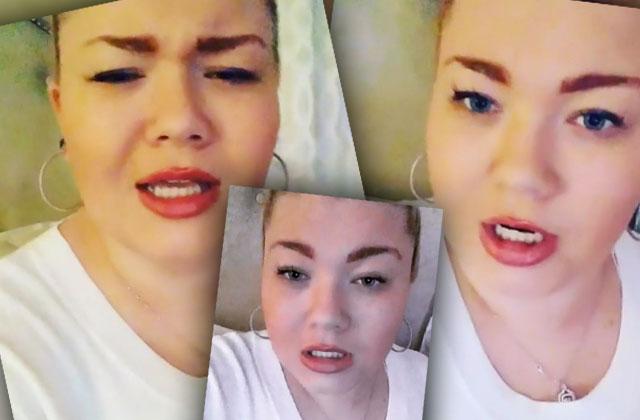 Amber Portwood has reached her breaking point with fans slamming her plastic surgery procedures. In a series of odd videos, the Teen Mom OG star went on an expletive rant demanding body shamers stop bashing her.
Portwood, 26, underwent a "mommy makeover" in October that consisted of a breast lift and "contouring" of her body.
"This body shaming going off on my Twitter, get the f**k off my Twitter." Portwood fired. "I lost 40 pounds by myself, gained it back because I was diagnosed with borderline personality disorder and got on a certain medication."
Article continues below advertisement
Although Portwood lost some of the weight again, her body "did not look right."
"You're ignorant," she continued. "I didn't do it to become a skinny woman. I've never been really skinny, only if I've been on drugs. I've always been a curvy woman so now I got my curves back. That's all I wanted."
The mother of Leah, 7, then called followers "weird" and "ignorant" for the hate she's received.
"Go f**k yourself," she blasted. "The hate needs to stop. If I go off on somebody, so what? What person doesn't go off on somebody if they're being rude and disgusting and nasty."
Portwood then called her haters "jealous."
"What the f**k are you commenting for," she asked. "You don't like me? Bye!"
The bizarre outburst comes weeks after Portwood allegedly attacked Farrah Abraham at the Teen Mom OG reunion taping for saying her fiancé Matt Baier looks like a pedophile.
Abraham's father Michael exclusively told RadarOnline.com that Portwood began "verbally going off" on his daughter. He even saw her hand "touch" his daughter's face.
Do you think Portwood is okay? Tell us in the comments!
We pay for juicy info! Do you have a story for RadarOnline.com? Email us at tips@radaronline.com, or call us at (866) ON-RADAR (667-2327) any time, day or night.