Presidential Election 2016
WikiLeaks Shocker: Bill & Chelsea Made Top Clinton Foundation Official 'Suicidal'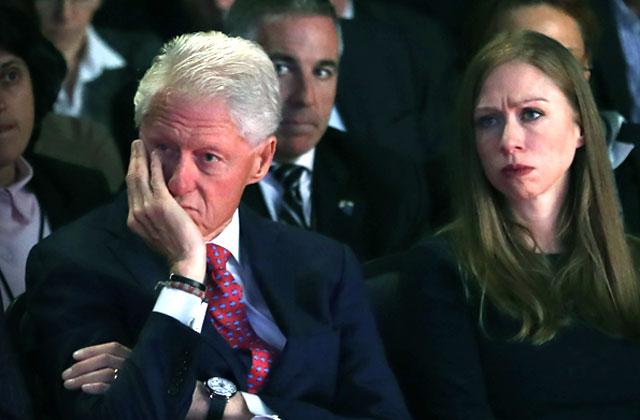 Bill and Chelsea Clinton's "office crap" almost pushed Clinton Foundation chief operating officer over the edge in 2011, newly hacked emails from WikiLeaks revealed.
According to the correspondence, Bill's chief adviser at the time, Doug Band, sent an email to Clinton's staff, sharing that he had convinced a Clinton Foundation top official not to commit suicide.
"Late last night, she called me as she couldn't reach my brother or her shrink," Band wrote in the message, written in December 2011. "She was on staten island in her car parked a few feet from the waters sic edge with her foot on the gas pedal and the car in park. She called me to tell me the stress of all of this office crap with wjc and cvc as well as that of her family had driven her to the edge and she couldn't take it anymore."
Article continues below advertisement
Band's mention of WJC and CVC likely refers to the former president, William J. Clinton, and daughter Chelsea Victoria Clinton.
"I spent a while on the phone with her preventing her from doing that, as I have a few times in the past few months, and was able to reach roger and her shrink," he continued, later adding that "stress" at the Clinton Foundation had directly caused "very serious health issues" with Bruce Lindsey, chairman of the board.
Later, Band slammed Chelsea for not caring that her office antics had greatly affected two top employees, complete with a Bill rape scandal dig: "But I'm sure chelsea is more concerned with a mostly false story in the distinguished ny post about mf global and teneo not her role in what happened to laura/bruce, what she is doing to the organization or the several of stories that have appeared in the ny post about her father and a multitude of women over the years."