Exclusive
Still Scheming! Vicki's Secret Plan With Kelly Dodd & Gretchen Rossi Exposed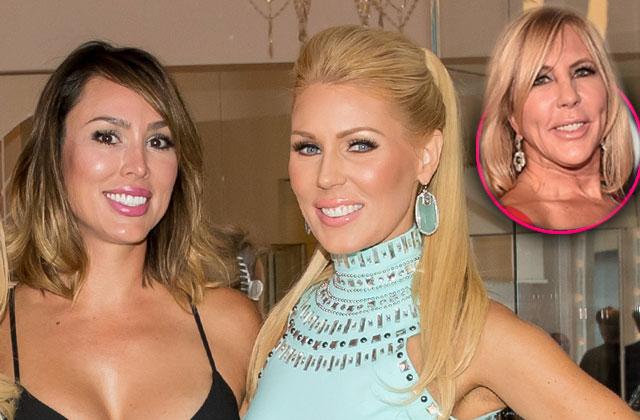 Real Housewives of Orange County star Vicki Gunvalson has a few tricks up her sleeve! According to a source close to production, the 54-year-old series veteran is ramping up her secret plan to be top dog on the series — by keeping kooky newcomer Kelly Dodd in her corner!
"Vicki loves Kelly more than ever because Kelly is fighting Vicki's battles for her," said an insider.
As RadarOnline.com previously reported, Dodd and Gunvalson's friendship has grown ever since Dodd refused to let the other cast members continue to bash Gunvalson over last season's Brooks Ayers cancer debacle.
Article continues below advertisement
And things took a turn for the weird this past July, when Gunvalson and Dodd enlisted the help of former RHOC beauty, Gretchen Rossi, in their ongoing efforts to rule the RHOC.
"Vicki stands behind everything that Kelly says right now because Kelly says almost exactly what Vicki is thinking," the source told RadarOnline.com.
"As far as Gretchen goes, she and Kelly have continued to hang out a lot and become even closer friends."
"Kelly is really pushing for Gretchen to come back to the show next season because she and Vicki both feel like she would be a good person to have on their side," said the source.
Do you think that Kelly Dodd should be asked to return for next season of Real Housewives of Orange County' Sound off in the comments below.