Leah Remini STALKED While Filming Scientology Docuseries?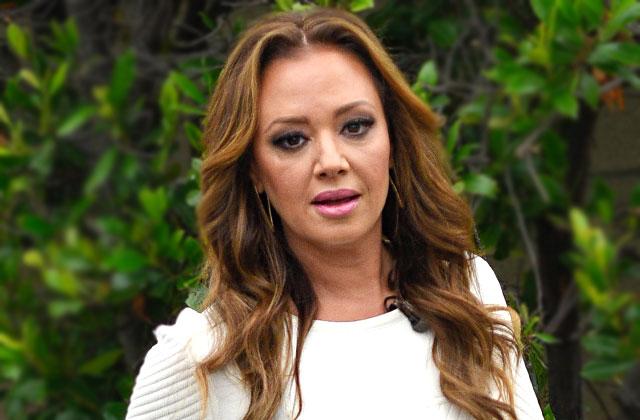 The production process for Leah Remini's upcoming A&E documentary series, Leah Remini: Scientology and the Aftermath, came with great costs (as most Scientology tell-alls do), including legal letters, strange phone calls and even suspicious stalking.
According to Scientology reporter Tony Ortega, the actress had an odd encounter this summer with notorious former Denver "Super Cop" Daril Cinquant, who was tailing her while she visited former Scientologists Marc and Claire Headley in Colorado.
Article continues below advertisement
"I was having dinner with Marc and Claire, and I noticed two cars parked across the street in an empty lot," Leah revealed in an interview. "I asked Claire, do you think we're being followed?"
The strange stalking continued into the next day, Remini claimed.
"They weren't doing a very good job of being inconspicuous. I think they wanted to be seen," she said. "I was with Mike Rinder former senior executive of the Church of Scientology International and Sea Org and it became obvious that they were spying on us."
Remini discovered the spy's identity when she showed his picture around town in Denver.
"I'm used to people following me. But I'm used to them being paparazzi. They're people who have cameras in their hands, and you know what they want. I've never been a fan of the paparazzi. But this was different," she recalled of the eerie experience. "I want to expose the private investigators that Scientology is sending to follow people like me. This causes me some concern. I have a child. And if you're a cop who became a dirty cop, I have an issue with it."
Article continues below advertisement
The church denied any involvement in the events that occurred.
Leah Remini: Scientology and the Aftermath premieres Nov. 29 at 10 p.m. ET/PT on A&E.
We pay for juicy info! Do you have a story for RadarOnline.com? Email us at tips@radaronline.com, or call us at (866) ON-RADAR (667-2327) any time, day or night.