Exclusive
Kim's Worst Nightmare! Ex Husband's Pervert Past EXPOSED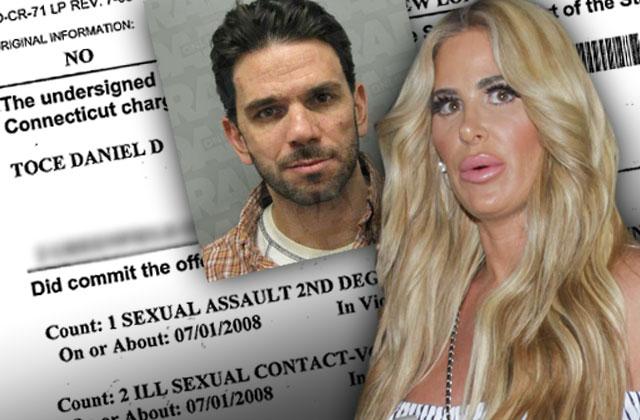 Kim Zolciak finalized her divorce from Daniel Toce in 2003, but RadarOnline.com has learned that her shady ex continues to haunt her.
Toce, 43, was convicted of sexually assaulting and having illegal sexual contact with a minor under the age of 16 in 2011, and now RadarOnline.com can exclusively reveal the victim was a 15-year-old family member.
The case against Toce began in 2010 when one of his family members revealed to Connecticut police that they believed he was engaging in inappropriate sexual contact with another family member.
Article continues below advertisement
"Daniel Toce and the victim were getting very close and seemed to be obsessed with each other," the family member revealed in documents obtained by RadarOnline.com.
The family member went on to detail horrific incidents, including one where "the victim was sitting on the living room floor next to Daniel and she was touching Daniel's penis with her hand."
The family member also revealed that they believed the victim witnessed Toce purchase crack cocaine as well, before noting that "the victim had an abortion about four (4) months prior to the report at Planned Parenthood."
Police immediately questioned the victim, who denied any wrongdoing by Toce in a written statement. But just weeks later, she recanted her statement.
"The victim said she made the false statement because she was afraid if she told the truth, Daniel Toce would find and hurt her," the report read.
The victim detailed that their sexual relationship began on a campsite when "Daniel had been drinking and asked her if he could kiss her. Then they kissed." They went for a walk together a few days later, and "the victim stated that while on the path, she and Daniel had consensual vaginal intercourse for the first time. They did not use birth control and Daniel ejaculated inside of her."
Article continues below advertisement
From there, they continued to have sex routinely. The victim stated they had sex on "two to three occasions" in motels, on "about 52 occasions" in an apartment, and on "about 35 to 36 occasions" in a home.
The victim conceived in early 2010, and had an abortion when she was "about five weeks pregnant."
"The victim said Daniel Toce was the only person she was having sex with at the time and he was the father of the baby," the papers read. "The victim said she wanted to keep the baby but she had no way to support it and it would have resulted in Daniel getting arrested."
She also confessed to detectives that she saw him use crack cocaine, and that he "physically abused her."
"Daniel has slapped, backhanded, kicked and punched her on her face after becoming angry at her," she claimed in documents. "The victim stated that she wanted Daniel Toce to be arrested and prosecuted for sexually and physically abusing her."
An arrest warrant was issued in October of 2010, and Toce plead not guilty to sexual assault in the second degree and illegal sexual contact with a victim under the age of 16 in November 2010.
Article continues below advertisement
He changed his plea to guilty in June 2011, and was sentenced in August to register as a sex offender, attend sex offender counseling, substance abuse counseling, mental health counseling, to take prescribed meds and anger management classes and to stay away from the victim.
More notably, he was sentenced to 10 years in prison although he only served 2.5. He was also given a 10-year probation sentence.
When questioned by RadarOnline.com, Toce confirmed the victim "definitely wasn't" one of Zolciak's kids.
"It wasn't a kid," he insisted. "She was almost 16."
Stay with RadarOnline.com for more.
We pay for juicy info! Do you have a story for RadarOnline.com? Email us at tips@radaronline.com, or call us at (866) ON-RADAR (667-2327) any time, day or night.