Exclusive
Buried Court File: Explosive Details From Kim Zolciak's Bitter Divorce From Pervert Ex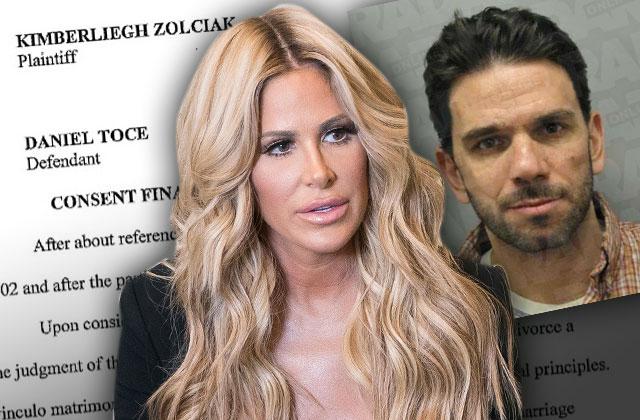 Before Kim Zolciak was Mrs. Biermann, she was Mrs. Toce for just three months, RadarOnline.com has learned!
RadarOnline.com has exclusively obtained the explosive divorce documents between Zolciak, 39, and Daniel Toce, and can reveal that the short-lived marriage ended in shocking warfare.
Zolciak filed for divorce on September 18, 2001 while she was eight months pregnant with Ariana, 14. The court processed her request on Sept. 24 of that year.
Article continues below advertisement
She listed that they were married on May 5, 2001, but separated on August 19 of that year. She claimed that he committed adultery and "willfully and without justification deserted her and his unborn child" in the explosive documents.
READ The Shocking Court Documents
Zolciak requested for Toce to pay her temporary and permanent alimony in addition to all of their debts. She also wanted to keep their house, but have him pay to maintain it. The Don't Be Tardy star asked for him to pay her attorney's fees and expenses and child support as well.
The couple obtained a mutual restraining order and was ordered to complete a parenting workshop at the time of her filing.
Ariana was born on October 17, 2001 and the court processed Toce's response to Zolciak's petition a month later.
He claimed Zolciak "forcefully removed him from the marital residence "and he was "entitled to an equitable division of the parties' marital obligations" in his filing. He sought the divorce on grounds of "cruel treatment" and wanted joint legal and physical custody of their daughter, to be renamed Ariana Toce. Finally, he wanted her to pay his legal fees.
Article continues below advertisement
Zolciak requested an emergency temporary hearing on January 23, 2002 because she was in desperate need need of money. She was working at The Cheetah, an adult entertainment club, at the time.
"Though Defendant has ample income, he has refused to equally share in the parties outstanding debt or mortgage of the marital home," she claimed in the papers obtained by RadarOnline.com. "As a result of Plaintiff's pregnancy, child birth, resulting loss of income and refusal by Defendant to provide financial assistance, Plaintiff is in dire financial straits."
"Plaintiff has exhausted her financial resources, including borrowing funds from her parents, and cannot sustain the payments on the parties debt and provide for the care and support of the parties minor child," the papers continued. "Plaintiff shows that without the immediate intervention and assistance of the Court, she will not be unable to provide a home for the parties child and will likely have unpaid debts referred to collection agencies or law firms for collection sic."
Article continues below advertisement
Zolciak filed papers claiming that she only brought home $500/month from her job (but her gross monthly income was $1228), and her average monthly expenses totaled $7,216. She requested $6,700 in child support, and listed that she received $628/month in child support from Brielle's dad.
She claimed to owe Kmart Capital One $4,875.69 and the Children's Place $990 among other creditors.
The hearing was set for January 29, during which Toce requested a paternity test and changed his request to give Ariana his last name. Toce and Zolciak established a visitation and child support payment system for Ariana, and their divorce was finalized on February 11, 2003.
The court ruled that Zolciak and Toce would share legal custody of their daughter, who would keep the name Zolciak. Toce was granted visitation, and Zolciak was granted $1200/month in child support until Ariana turns 18. He was also ordered to pay a lump sum in regards to the temporary order established in the case.
The court also ruled that he had to pay her for his half of their credit card debt, as well as part of her attorney's fees.
Zolciak filed paperwork in June, claiming he never paid her.
Toce found himself in court again years later for sexual assault and sexual contact with a minor charges. He was convicted of abusing a family member in 2011, and told RadarOnline.com exclusively that the victim was not one of Zolciak's children.
Stay with RadarOnline.com for more.
We pay for juicy info! Do you have a story for RadarOnline.com? Email us at tips@radaronline.com, or call us at (866) ON-RADAR (667-2327) any time, day or night.