Exclusive
Kardashian Exposed! Explosive Police Video INSIDE Kim's Paris Hotel After $10M Heist Exposes Holes In Official Story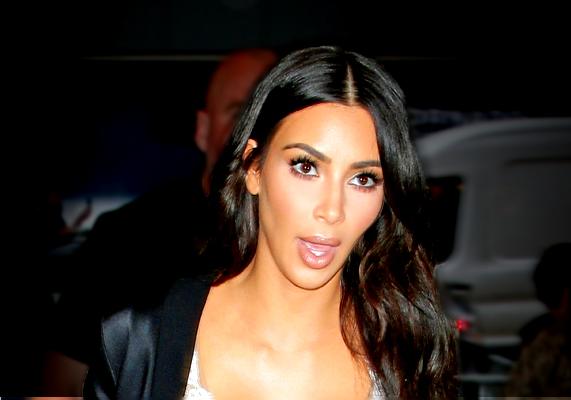 Kim Kardashian's "terrifying" jewel heist nightmare in Paris has been caught on dramatic videotape — and raises questions about the OFFICIAL version of events!
Law enforcement and security experts have reviewed the three-and-a-half minutes of video footage that shows the reality diva inside the French hotel. It was obtained by RadarOnline.com in a bombshell world exclusive.
Incredibly, this never-before-seen look at what unfolded inside the luxury L'Hôtel de Pourtalès late on Oct. 3 raises questions about the diva's story!
Article continues below advertisement
According to the official storyline, a gang of thugs burst in on a helpless Kim, bound her with tape and zip ties, dumped the buxom beauty in a tub and helped themselves to $10 million in jewels before fleeing the scene on bicycles.
But in the jaw-dropping video shot immediately after the crime, the "reality" star, 36, is seen sitting cozily on a couch, bundled up in a blanket, calmly video-chatting on a cell phone — and far from hysterical as she's been publicly painted.
What's more, Kardashian sources said the thieves swiped Kim's phone — which doesn't explain whose phone she's using in the video!
"I would have expected her to have been extremely nervous, and ill at ease," said Henderson Cooper, retired Los Angeles Police Department supervisor of detectives.
"Usually cases with civilians who are not experienced with such conflict, people get shakes, they get unstable. Sometimes they get light-headed or confused and I hear nothing to suggest that."
Article continues below advertisement
Reps for Kim told RadarOnline.com the video is not accurate portrayal of the star's state of mind because it was taken five hours after she was held at gunpoint. RadarOnline.com is unable to verify when the video was shot.
In another twist, Kim's wrist — which is clearly seen on the video — appears to show NO markings from the zip ties allegedly used to bind them, or her supposedly desperate attempts to free herself!
In order to test Kim's story, a RadarOnline.com reporter subjected herself to being hogtied. She suffered bruising almost immediately.
Yet on the video, there are no obvious injuries to the three-times married mom-of-two!
The video footage zooms in on a door frame that shows no signs of forced entry — and the room's lamps and furnishings are not in disarray.
Magazine clippings and photos taped to the wall remain undisturbed. Several large mirrors still hang in one piece — seemingly untouched by intruders.
A large and expensive flatscreen television stands next to the exit — left behind by the thieves.
Article continues below advertisement
In another mystery, despite family claims that Kim was not filming for Keeping Up With the Kardashians at the time, the apartment was equipped with cameras!
In one shot, Kim's assistant even appears to be wearing a lapel mic!
RadarOnline.com commissioned Manny Gomez, a former FBI agent, to review the tape and the reported chain of events.
Gomez immediately noted there were "no signs of forced entry whatsoever, so it seems that she let them in."
He questioned: "If so, why?
"It's interesting to me how calm she and her personal assistant appear to be, somebody that was just robbed at gunpoint. She was acting very normal, like as if nothing happened."
"A camera should have been fitted to the bedroom door where Kim was sleeping, along with a sensor," added Michael Jackson's longtime bodyguard, Matt Fiddes.
"A screen could have been set up in the chief of security's bedroom, and somebody would have watched it all night.
Article continues below advertisement
"It's standard procedure. There is something not right there."
In another twist, Kim's bankrupt bodyguard, Pascal Duvier, was not on the scene. Instead, he was at the nearby L'Arc nightclub — where Kim's sisters Kendall Jenner and Kourtney were partying.
"If I'm the owner of a hotel and I get Kim Kardashian, I double, triple my security procedures. I put agents at each exit," said Charles Pellegrini, former head of France's anti-organized crime squad.
"We are dealing with a young woman who was sleeping alone with a hugely valuable amount of jewelry.
"She would never open the door in the middle of the night in these circumstances, so who did?"
UPDATE:
"The video accompanying this article has been removed because of a legal threat from Kim Kardashian, and the article revised accordingly. We do not believe, however, that either the video or the article accuse Ms. Kardashian of "faking" the Paris robbery, as her attorneys have claimed, and which we did not intend. Rather, they raise legitimate questions about the events at issue, questions which many media outlets and many other people have also raised. We apologize to Ms. Kardashian for any implication otherwise."
We pay for juicy info! Do you have a story for RadarOnline.com? Email us at tips@radaronline.com, or call us at (866) ON-RADAR (667-2327) any time, day or night.