Exclusive
Pay-For-Play! Kris Takes Control Of Caitlyn's Tell-All To Ensure NO Secrets Spilled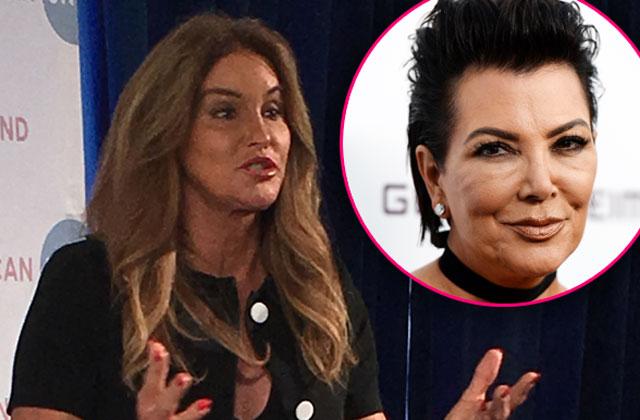 It's one of the most anticipated celebrity memoirs of 2017 — Caitlyn Jenner's autobiography. But, fans hoping for juicy revelations about her ex-wife Kris Jenner are in for a major disappointment.
A source privy to details about Caitlyn's book told RadarOnline.com she's watered down all the juicy parts about Kris, as part of a pact she made with her during negotiations for Caitlyn's return to Keeping Up with the Kardashians.
Article continues below advertisement
"Caitlyn's just read the first draft of her book, and has sent it back to her writer (Caitlyn suffers from lifelong dyslexia, so she's unable to write her book) to go softer on Kris," the insider tells RadarOnline.com.
According to the source, Caitlyn is already preparing people in her close circle for the lean portions about her former spouse.
"She's playing off it off as a noble act by saying, 'I don't want to hurt Kendall and Kylie by speaking ill of their mother,' but the truth is, he can't afford to piss Kris off!"
"Caitlyn went running back to Kris when she learned her show, I Am Cait was being canceled," said the said. "While Kris isn't her official manager anymore, she still relies on her for business advice."
"She knows the importance of having a TV audience as a foundation for other money making ventures. She tried it out on her own without Kris, and she flopped. If she's learned anything from Kris — it's that you must stay relevant in order to keep the cash flowing."
Article continues below advertisement
"Kris has Caitlyn right where she wants her. Kris always knew she would," the insider added. "She's patient that way. She had some conditions for helping her, and one of them is that Caitlyn nix any negative stories about Kris from her book. Caitlyn agreed.
While Sunday's episode has Kris calling daughter Kim Kardashian-West a traitor for styling Caitlyn for the ESPYs awards — it was all for show — and ratings.
"Caitlyn and Kris are thick as thieves," according to a source close to Caitlyn, adding that the pair talks several times a day. "Kris missed being able to unload on somebody who understands the stressors she's under. Caitlyn was always a good listener, and supportive of Kris."
"Kris and Caitlyn's close ties are a big secret because they need the public to tune in to see conflict," the insider added. "The truth is, they agree they are better together than they are apart."
We pay for juicy info! Do you have a story for RadarOnline.com? Email us at tips@radaronline.com, or call us at (866) ON-RADAR (667-2327) any time, day or night.