Luann De Lesseps Exposes Bethenny Frankel: 'You're Dating A Married Man!'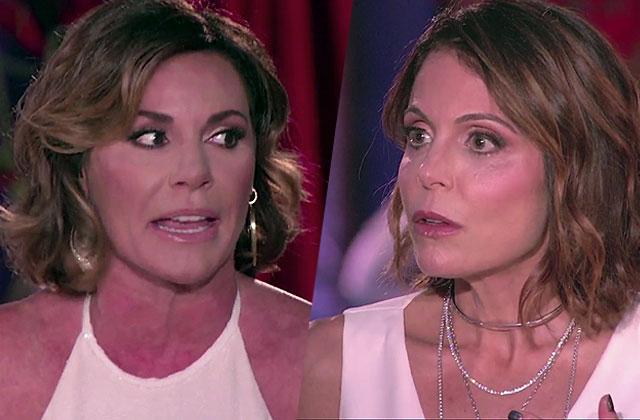 "I didn't come here to ruin lives," Bethenny Frankel says to Andy Cohen in the beginning of Part 1 of The Real Housewives of New York City Reunion. Frankel refrains (sort of) from blatantly stating on air that Dorinda Medley is a cocaine user. Medley wants the chance to defend herself but all the other women are shifting nervously in their chair and Frankel is saying, "next question please!" She is also ignoring the Countess who is baiting her at every turn. "How long was the divorce?" she asks Frankel as if she's Cohen. "Four years," Frankel answers. "How long were you married?" the Countess asks. "Two years," says Frankel. There's only so long Frankel will remain on the defensive before she goes on the attack and she went "Full B" on this episode.
Article continues below advertisement
The Countess and Frankel have some bad blood that's travelled from the Berkshires to Miami and back to New York City again. In the Berkshires, de Lesseps accuses Frankel of copying her hairstyle. When Cohen asks the ladies to raise their hands if they think Frankel copied her hairstyle no one raises their hands. De Lesseps says it's because they're afraid of Frankel but she isn't. "The real hypocrite in this room is Bethenny," she announces. "You're going out with a married man. She was going out with him for a while while he was still married and I know this has been going on for a long time. Everybody knows."
So Frankel does what she does best and goes on the attack. Cohen asks Frankel if she thinks she slut-shames. "I don't know the exact definition of slut shaming but if it's calling out the fact that LuAnn writes books on etiquette and behaves like a complete whore when she's out then I am guilty."
They continue hurling accusations at each other for the rest of the episode. Carole Radziwill, wearing a dress made out of old chiffon curtains, comes to Frankel's defense at every turn.
Article continues below advertisement
At one point she mutters "bitch" just slightly under her breath like a side-kick should. LuAnn keeps shouting about Bethenny's boyfriend being married and Frankel decides that she must defend her character by calling LuAnn disgusting and calling her boyfriends daughter. She put her poor boyfriend's daughter on speaker phone to say that no, they weren't dating while her father was still living with her mother and that Bethenny was a very good friend. It was all very sad yet Frankel was smiling and jumping up from the couch. "You were born a liar and you'll die a liar," she tells LuAnn.
Frankel does more harm to her own character by saying things like, "There's not a man in manhattan you haven't slept with" and "You've never went out with a man you haven't had sex with and you know it" than LuAnn does with her weak accusations. "You're evil," LuAnn says as Frankel smirks.