Exclusive
Stealing Blac Chyna's Spotlight! Kim To Reveal Uncensored Nude Photos In New Book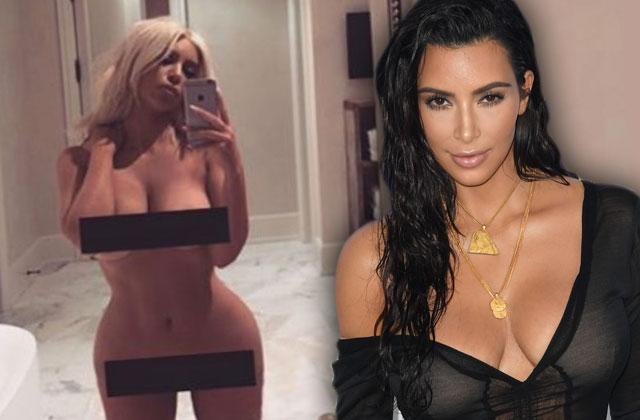 Blac Chyna may be turning heads with her racy new photo shoots, but the expectant model's soon-to-be sister-in-law Kim Kardashian is ready to steal back the spotlight.
In the updated version of her selfie book, Selfish, obtained exclusively by RadarOnline.com, Kim, 35, reveals an uncensored version of a famous nude photo.
The new picture, first uploaded to her Instagram page with black censor bars in March, completely exposes her nipples and bare nether region.
Article continues below advertisement
"I knew I was dyeing my hair back dark the next morning so had to capture the moment lol," she captions the blonde shot in her new book, out October 11.
Interesting to note that while the photo was posted this spring, just three months after she gave birth to son Saint, the selfie appears in the 2015 chapter.
Kim's new photo could take fans' attention away from former best friend Chyna, 28, who showed off her naked pregnant figure in Kardashian-style Elle and Paper magazine spreads this week.
The mother of two was not flattered by Chyna's imitation, sources told Radar.
"Kim was furious," an insider said earlier this week. "She wanted to be the only one in her family to have the cover of Paper magazine naked."