'Cancer!' Teresa Slams Cousins Kathy & Rosie Amid Family Feud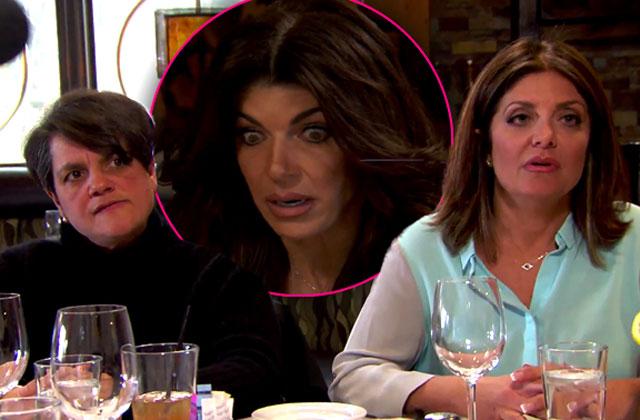 Teresa Giudice, Kathy Wakile and Rosie Pierri clashed on this week's Real Housewives of New Jersey.
Siggy Flicker believed her matchmaking skills could bring the family together after Jacqueline Laurita told her about the upcoming meeting. She also threw advice at Melissa Gorga, who turned a night of Botox into a date night with her husband.
Joe Gorga, the Envy by MG owner, Siggy and Jacqueline decided to go to Kathy's house ahead of time to prep her for lunch with Tre and to go over the details of their feud. Kathy insisted she already policed for calling her mom "crazy" during a reunion, and Melissa insisted they should stop talking about her. Kathy wouldn't have it, though, and Jacqueline rushed to her defense.
Article continues below advertisement
Richie Wakile decided to take matters into his own hands, and proclaimed that he loves his wife while Joe Giudice just doesn't love Teresa. The Wakiles came to the conclusion that the Giudices are just jealous — and Joe Gorga went into a temper tantrum while Melissa called Richie a "dick."
Later on, Joe agreed to go the Wakile/Pierri/Giudice showdown as his sister's support system, but fell flat after a fight immediately broke out. Teresa couldn't resist bringing up Richie's comment about her marriage, forcing Kathy to go on the defense. Then, Teresa slammed them for not reaching out enough when she was in prison — calling them "cancer" in the process. Rosie asked her to remember that they're family, but for Teresa, the damage was already done.
Meanwhile, Ashlee Holmes and her boyfriend Pete were ready to take the next step in their relationship — and "apartment hunt" together before he planned to propose. Naturally, Jacqueline was a waterfall of tears.
And of course, Joe Giudice is still getting ready for his upcoming prison sentence, as Teresa shared with Melissa. So Melissa and Siggy decided to plan the infamous trip to Vermont for Teresa to relax.
Tune into RHONJ to see the explosive trip on Sunday at 8 p.m. EST on Bravo.