Ready To Split? Newly Independent Melissa Gorga's Marital Problems EXPLODE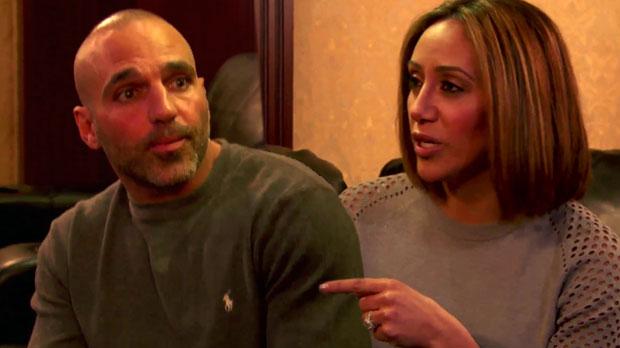 All the Jersey ladies are having family issues, but Melissa Gorga may be the only one headed towards divorce!
On the latest episode of The Real Housewives of New Jersey, Melissa and Joe Gorga get into their most epic fight yet. As usual, Joe can't stand Melissa working — but she finally put her foot down.
Her sister-in-law Teresa Giudice is having husband problems of her own, as Joe can't get a grip on reality before his prison sentence. His drinking has gotten more excessive, and started interfering with his already non-existent family time.
Article continues below advertisement
Later on, Joe revealed to Teresa that her daughters knew she was in prison for a crime rather than at camp to write a book, much to Teresa's upset.
Meanwhile, Siggy Flicker is losing grip of her son Joshua — all because he got his driver's license! He's desperate for his own car, and of course he got one thanks to his clingy mom — and his dad (and Siggy's ex) Mark.
Mark also revealed that Josh confided in him about his lack of privacy at Siggy's house —which was also addressed in previous episodes.
MORE ON:
Jacqueline Laurita
Dolores Catania has son troubles of her own, as Frankie is never home. She finally gets to pull him aside, and they agree that Frankie needs to call his mom to discuss where he's going after school and when he should come home.
Jacqueline Laurita is still struggling with Nicholas, but finally got some help from Teresa! Teresa brought her kids over for a play date, and Milania and Nicholas hit it off. Jacqueline worries about her son's future, but is thankful that Teresa and her girls are there by her side — for now.
But, Teresa still isn't there for Kathy Wakile and Rosie Pierri. She neglected to invite them to her book launch party, and didn't reach out to Kathy about Victoria's brain tumor.
Kathy and Roise decide to stop by Teresa's book signing to make it right — and the trio agree to go out for lunch to discuss their relationship.
Tune into The Real Housewives of New Jersey, Sundays at 8 p.m. EST on Bravo.