Exclusive
Bad Mom? Farrah Abraham Admits Mistake After Calling Sick Daughter 'Stupid'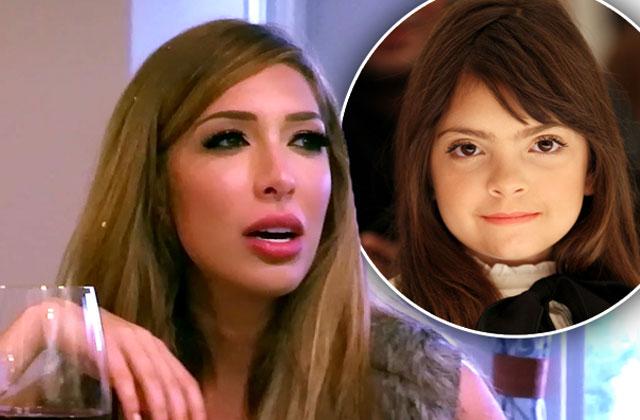 Farrah Abraham is finally agreeing with her haters! After calling her daughter "stupid" on this week's Teen Mom OG, Abraham exclusively admitted to RadarOnline.com that she regrets insulting her 7-year-old.
"I can be stupid, anyone can act stupid," Abraham, 25, told RadarOnline.com of when she scolded her sick daughter for refusing to get ready for a party. "I keep it real. I'm not allowing my daughter to be spoiled or not responsible for her actions."
Article continues below advertisement
Abraham then blamed MTV for her daughter's temper tantrum.
"It's difficult with grandparents and cameras around for my daughter," she said. "My daughter is very bright and wonderful and I keep it real on Teen Mom OG with real feelings and thoughts in my every day life."
The controversy started when her daughter, who was sick at the time, refused to get out of bed for an Easter party.
"I don't know why Sophia needs to act like a heathen, get up there," Abraham said while pushing her daughter up the stairs. "Sophia is too stupid to get ready. It's not my issue right now."
When her mother told Abraham to go easy on her daughter because she's sick, the mother of one responded, "I gave her medicine, I already did that stuff. It's ridiculous how she's acting. Between the two of you I don't know what's more irritating."
Viewers slammed Abraham for her bad mom behavior when the episode aired.
"Definition of a bad mom? Farrah Abraham," a hater wrote on Twitter. "How can you call your daughter stupid?!"
Another user slammed, "Anyone else's heart break when Farrah Abraham through sic her sick daughter up the steps? Your kid is a CHILD. Not a servant."
Are you surprised Abraham admitted her mistake? Tell us in the comments!