Exclusive
She's Done This Before! Chris Brown's Alleged Victim Once Accused Male Pal Of Assault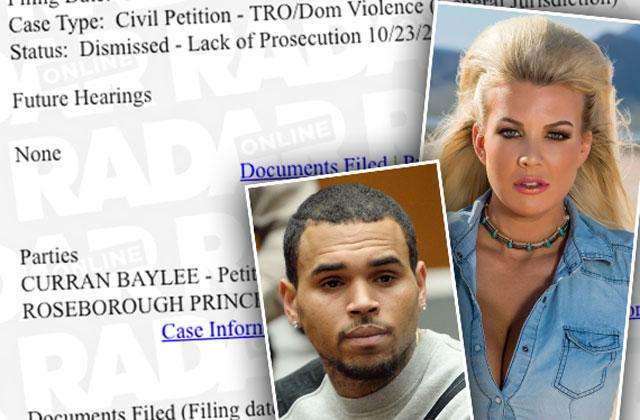 Chris Brown's alleged assault victim has a history of making "false allegations" of "violence," according to her past roommate. RadarOnline.com has exclusively learned that Baylee Curran obtained a restraining order against a friend, only to let it expire with no prosecution.
Tuesday, Curran accused Brown of threatening her with a gun, and he was subsequently arrested on suspicion of assault with a deadly weapon. But back in 2013, she was making claims of "violence" against then-roommate, Princeton Roseborough.
Article continues below advertisement
"She was my roommate and also made false allegations against me that resulted in a restraining order that forced me out of my own home for a month," Roseborough wrote in a public Facebook post Wednesday night.
MAMA DRAMA! Chris Brown, Nick Young & More! 10 Baby Mama Bombshells That Blindsided Hollywood!
Indeed, according to court documents obtained by Radar, Curran requested a temporary restraining order against Roseborough in California on October 1, 2013, citing "domestic violence."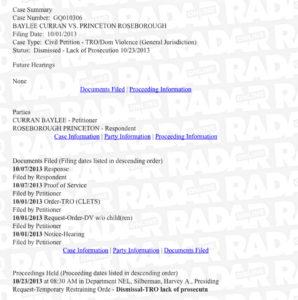 However, the case was ultimately dismissed on October 23, for lack of prosecution. Curran, 25, did not immediately respond to Radar's request for comment.
"She never even took her allegations seriously enough to show up in court when it came time to," Roseborough claimed.
EXCLUSIVE VIDEO: 'Watch Your Back!' Inside Chris Brown's Terrifying Standoff With Cops
"Whole thing went away, didn't have merit, but my whole life was still turned upside down for a month. She's been pulling this BS for years now."