Exclusive
She 'Assaulted Me!' Chris Brown Accuser Hit With Restraining Order From Former Friend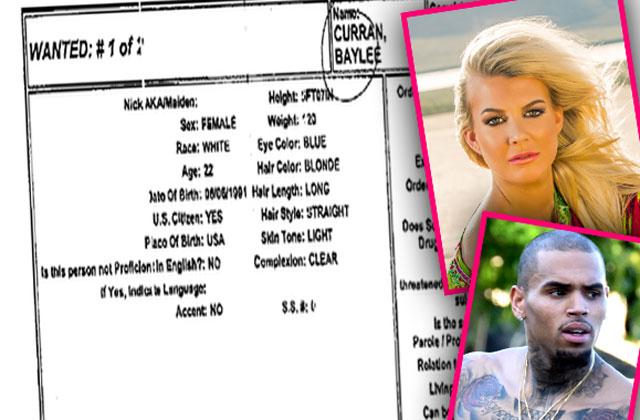 Chris Brown's alleged assault victim, Baylee Curran, was accused of attacking her own friend and slapped with a restraining order over the incident, RadarOnline.com has learned.
Curran's claims that Brown, 27, brandished a gun at her early Tuesday led to his arrest on suspicion of assault with a deadly weapon. But in 2013, it was Curran herself who was at the receiving end of similar allegations.
A former pal was granted a temporary restraining order against Curran on October 30, 2013, over claims of "unlawful violence, a credible threat of violence, or stalking."
Article continues below advertisement
EXCLUSIVE VIDEO: 'Watch Your Back!' Inside Chris Brown's Terrifying Standoff With Cops
She said that their friendship exploded during a trip to NYC gone wrong. "On Monday Oct 14, 2013, Baylee Curran invited me to join her and her friend ... to New York City for a few days …" she wrote in the court-filed documents obtained by Radar. "Night one, (10/15/2013) everything was fine .. dinner at STK, had a normal night. I went to bed early, they stayed out."
"Next day (10/16/12013) … I had foot massage. Exited foot massage and Baylee's friend began to yell I need to pay/behave erratic. … Baylee's friend attacked me and staff forced her off. I went to hospital by ambulance. Next day … at 1 am (10/18/2013) Baylee's friend and Baylee entered room, robbed $2000 and assaulted me."
Curran denied the claims to Page Six on Wednesday, insisting, "This is very false." She did not respond to Radar's request for comment.
Article continues below advertisement
The woman told the court, Curran "has threatened … physically stalked and harassed me." She accused her of "stalking to social events," and said Curran "stole social security and bank info" and "attempted identity fraud."
Because of Curran, the woman said at the time, "I am afraid to sleep at night," especially because she claimed Curran had a key to her L.A. apartment.
A judge signed off on the temporary restraining order that October, and there was a hearing on November 19, 2013, to discuss the allegations, but Curran didn't even show up.
Article continues below advertisement
At that time, the judge issued a full Civil Harassment Restraining Order, which will not expire until November 19 of this year.
Per the terms of that order, Curran is ordered not to "harass, intimidate" or "contact" the alleged victims, and must stay 100 yards away from her. In addition, she is barred from possessing, having, buying or trying to buy firearms or ammunition.
As Radar reported, Curran, 25, accused Brown of pointing a gun at her during an altercation at a party at his Tarzana, Calif. home on Tuesday. He was arrested on suspicion of assault with a deadly weapon and is currently out on $250,000 bail.