ALONE & Afraid! Vicki Reveals SHOCKING Hospitalization Details After Near Fatal Crash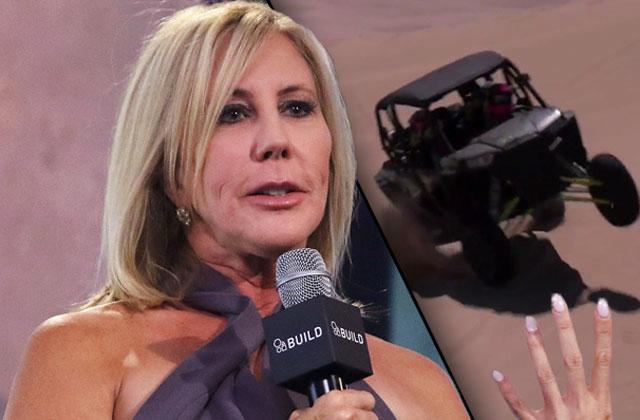 Article continues below advertisement
Now, Gunvalson is reflecting on the crash — and has plenty to say about the cast members who didn't come to her side after the ordeal.
"When I heard that Tamra wanted to go to Glamis and asked me to go with the ladies, I was ok with it, but really wasn't something that was on my bucket list of things to do," she wrote in her Bravotv.com blog. "I had a few friends that really liked going out there, but I had always heard it was really dangerous which made me a little apprehensive. I had asked my son Mike if he wanted to join me because I didn't want to go by myself and he said, 'Mom, haven't you heard how many people get hurt and die out there?'"
"When I watched it along just like all of you did, I realized there were so many things that I was unaware of that were happening because I was so 'out of it,'" she continued. "I don't know how Kelly didn't get more hurt than me when her helmet flew off the way it did. We are so fortunate, so blessed and so grateful it wasn't worse than it was. Kelly and I both were talking about how claustrophobic we were in those big helmets and we both were really uncomfortable in them. We loosened out straps to make it not so tight around the chin, but they were still strapped on. I have no idea how Kelly's helmet was thrown off her head without her being injured. She definitely had an angel watching over her."
Article continues below advertisement
"When Tamra told us she was going to another area of the dunes called the 'bowls,' I had no idea what that meant," she explained. "When we went over the top of the dune all I could see was huge hills for miles and miles. It was beautiful for a moment, but it also looked very scary. When we went over the top of the dune, it appears that the wheels hit the sand dune side ways and then ended up rolling over and down the hill. I just remember sand flying in my face, loud crunching of metal and all of us screaming and then I had immediate pain in my back and neck. I felt it was happening in slow motion, and thought we were never going to stop rolling."
"When I watched this episode, I do not remember going into the helicopter, I don't remember getting the IV morphine drip, I don't remember asking how badly injured Tamra was and I don't remember Heather and Kelly watching over me the way that they did," she noted. "I believe the four of us have a forever bond because of this near death experience and realize at any moment in time one of us can be taken from another. I am grateful for my friends and realize how much they all mean to me. Although I was alone heading to the hospital in the helicopter, I knew they were there in spirit."
Article continues below advertisement
"Carrie Underwood sings a beautiful song "Jesus, Take the Wheel" and Tamra and all of us think JESUS actually did take the wheel and protected us so we were not more severely injured," she added. "Whenever I hear that song now, I think of the accident and how fortunate and blessed that none of us died. Looking back now almost four months later, it was THE scariest time in my life."
Gunvalson also criticized Meghan King Edmonds again — but this time, not for her marriage problems.
"Watching Meghan and Jimmy get the phone call about the accident was sad for me," she quipped. "I was shocked that they didn't get in their car and head over to the hospital to be with me. I guess this is where people's true colors show, it's what happens when no one is looking. It's called compassion. It's called doing the right thing, being there for someone in need."
'I have known Jim and Meghan now for almost two years, and Meghan's choice of not going to be with me because we weren't 'friends' was shocking," she noted. "I don't care if we are 'friends or not,' we are acquaintances and we spend a lot of time together and for them to make the decision not to be there for me was selfish."
Article continues below advertisement
"I had no one there for me when I got to the hospital," she explained. "It was a 45 minute helicopter ride until I got to the hospital. I was scared that I was paralyzed or had permanent neck damage. My neck and back hurt so bad, it was frightening. The medics cut my clothes off me. I had no shoes, no purse and no one with me. I have thought long and hard on this since the accident and if that happened to any one of my 'friends' regardless how close we are at the time, I'd be on my way there to be with them. I am in shock at the choices some of these women make in the time of a crisis. It's integrity, it's the character of the person."
"When I got to the hospital, Briana had already spoken to the nurse and they informed her I was arriving by helicopter," she added. "My daughter was at home not feeling well herself and she was willing to get in the car with her two babies and drive two hours to be with me."
"After several CT and MRI scans, I was released about nine hours later and diagnosed with severe concussion and neck injury," she said of her hospitalization. "I had to take a car service home from the hospital all by myself, late at night with no shoes, no purse and nothing on but hospital scrubs and hospital socks. Not exactly what I had expected when my friends were so close by."