Tamra Judge On 'Horrible' Relationship With Estranged Daughter Sidney: 'It's Sad'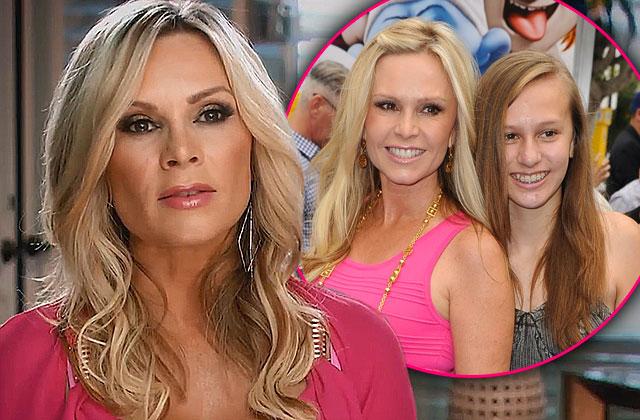 It's no secret that Tamra Judge's divorce from ex Simon Barney had some long-term effects, including her now estranged relationship with 17-year-old daughter Sidney.
During an interview with Entertainment Tonight, the Real Housewives of Orange County star set the record straight on rumors surrounding her children.
"I've never lost custody of any of my kids," the 48-year-old told ET. "I hear that all the time. . .I'm not going through a custody battle."
Article continues below advertisement
After Sidney chose to live with her dad in 2014, cutting off all communication with her mom in the process, Judge claimed that a therapist purported that the teen was suffering from "parental alienation," when a child rejects the parent they don't live with.
"It's sad, and hard, and horrible, and it's happening all over the world," Tamra said of the situation. "It's when a kid gets stuck in the middle. . .There was no huge thing that happened between us. It wasn't like we were fighting or screaming at each other. It was nothing like that."
Watch the Video on RadarOnline.com:
In a shocking twist, the reality star said that ex Simon previously attempted to get sole custody of their three children, but "the judge laughed at him and said, 'No.'"
"As a result of the drama, Sidney's brother, Spencer, lives with me full time and he doesn't speak to his dad," Tamra added. "It's a mess. I have asked, like, 'Can the four of us sit down?' … I truly believe kids need both their parents. They need both of them to be healthy, successful, happy adults. Now, the situation is just so messed up and Simon won't agree to it."
Despite all the fuss, Judge shared that she still attempts to contact her daughter, in hopes that they'll patch things up someday.
"Every single week, I send her something," Tamra said. "'Thinking of you' ... it's all I can do."