Kelly Dodd's Feud With Heather Dubrow Heats Up: 'I Don't Put Up With Bullsh*t'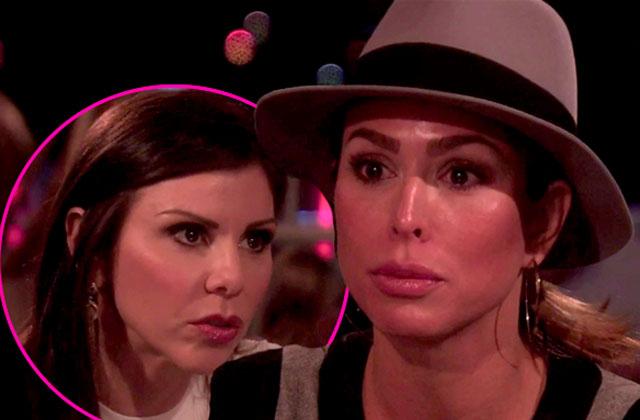 While Shannon Beador headed to Cabo with husband David after their romantic vow renewal, costars Tamra Judge and Kelly Dodd joined Vicki Gunvalson at the luxurious Merv Griffin estate in La Quinta, Calif. to celebrate Vicki and daughter Briana's upcoming birthdays.
For their first night away, Vicki had a very special evening planned for her daughter, arranging for Briana's husband Ryan to surprise her on the trip after months away as a marine.
Article continues below advertisement
But it didn't take long for the 'Wives to turn their attention away from happy family times and dish on their explosive dinner party two episodes prior.
"So, does Heather Dubrow hate me?" Kelly asked out of nowhere, referencing their blowout fight weeks before.
"Do you not like Heather?" Tamra asked in response, prompting Kelly to imitate Heather yet again in order to prove that she did, in fact, find her annoying.
"That wasn't Heather's party," Kelly took off on a rant. "If she's gonna be rude to me, I'm gonna be rude to her." She then revealed that Heather never responded to an apology text she wrote.
The next day, Meghan King Edmonds showed up for the fun with some potentially big news to share.
"I think I'm pregnant," she squealed as she arrived to their poolside gathering. "I have a little bump!" As RadarOnline.com readers know, Meghan underwent IVF last episode — without hubby Jim by her side.
Article continues below advertisement
Meanwhile, Heather and husband Terry enjoyed a date night dinner, discussing his busy schedule and her issues with Kelly.
"Max is now sending me photos of empty chairs," Terry said of their daughter.
Though he promised to be home more often from now on, Heather remained doubtful that the busy Botched surgeon would follow through. "I just want to see action. Show me," she demanded in confessional.
Later, Tamra arranged a meeting between Kelly and Heather so they could work out their differences before the ladies headed to Glamis.
"This is what I don't get about you: I leave and I hear you imitated me and made fun of me," Heather asked, trying to make progress on their feud. "Why would you do that?"
"Because you told me to leave!" Kelly shot back, her notoriously shrill tone making its return. "You got in my face, and you go, 'Leave!'"
"When you start calling people the c-word. . .you lose the right to care what people say to you," Heather replied cooly.
"I think Heather owes me an apology," Kelly told cameras during confessional. "I don't put up with her bulls*t."
But after a few tears at the dinner table, Kelly apologized and promised to keep her cool on their upcoming trip, saying, "Let's just have a good time."
Find out what happens next on the Real Housewives of Orange County, Monday at 9 p.m. ET on Bravo.