'I'm Not A Liar!' Shannon Beador & Kelly Dodd Go Head-To-Head After Nasty 70s Brawl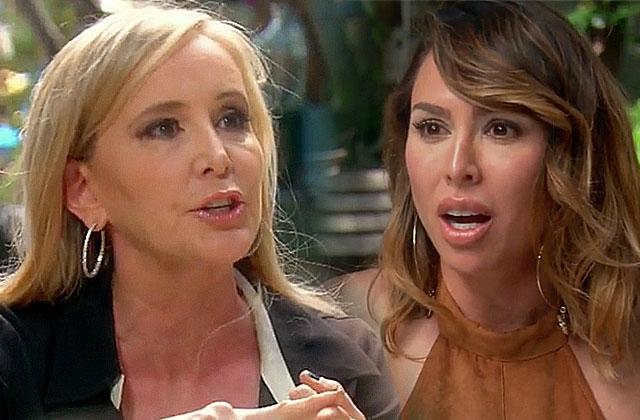 After all hell broke loose during Shannon's 70's party last week, Beador headed to Dr. Moon to try a new remedy for removing unwanted toxins.
"No pain, no gain," she told cameras after some uncomfortable Chinese Cupping Therapy on the doctor's table.
Meanwhile, new arch enemy Kelly Dodd kept busy bad mouthing Shannon.
"The whole thing was a set up," she said of the drama during last week's bash. Nevertheless, Kelly tried to make amends by inviting Shannon to sit down and rehash the night.
Article continues below advertisement
"For me to move on, I have to know her stance," Kelly confessed of her decision to talk things out, while Shannon shared that she was simply "curious what Kelly has to say."
Unfortunately, it didn't take long for things to turn ugly during their sit down.
"I thought this was going to be an apology not a cross examination," Shannon slammed Kelly after feeling attacked. "I think you insulted a third of my guests! You said I was ugly; you made me see red the other night. Then, you announced that my husband should've had an affair on me!"
"You're calling me a liar," Shannon continued, bashing Kelly's accusations that their mutual friend had been put up to snub her during the icy party.
"You are absolutely a liar," Kelly answered, unafraid of Shannon's infamous squeaky tone. "I apologized to you and you're supposed to forgive. Let's just be cordial with each other."
"I'm not a liar! Who the f*ck do you think you are? I don't trust you," Shannon shot back, causing Kelly to finally give up.
Article continues below advertisement
Watch the Video on RadarOnline.com:
As for the other O.C. ladies, Meghan King Edmonds traveled to Washington, D.C., with Heather Dubrow by her side, to speak on behalf of colorectal cancer.
Of course, the two 'Wives spend most of their time complaining about their husbands, especially after Meghan's baseball star hubby, Jimmy, ditched her IVF treatment to play golf.
When Heather warned her about how busy husband Terry had become over the years, despite children, Meghan was even more nervous about Jimmy's role in their growing family.
Watch the Video on RadarOnline.com:
Back in Orange County, Tamra Judge explored custom bikinis for her upcoming fitness competition.
"I have to learn to pose which is the scariest thing ever and get onstage to strut my sh*t," Tamra said in confessional, admitting that she's too uncoordinated to truly strut.
On the other side of town, Vicki Gunvalson toured daughter Briana's new house in the midst of renovations.
"Now that Brooks Ayers is gone, I've got my family back," Vicki shared of her newly repaired relationship with Briana.
The Real Housewives of Orange County airs Mondays at 9 p.m. EST on Bravo.