Exclusive
EXCLUSIVE: Matt Lauer Suffers Emotional Breakdown On The 'TODAY' Show Set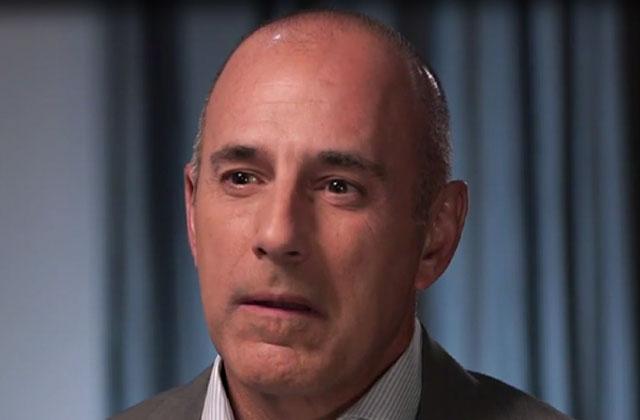 Article continues below advertisement
Lauer said of their exchange: "Tyler started by me giving him a pocket knife that I brought."
BIG SPENDER! Matt Lauer Buys Richard Gere's Massive Hamptons Estate For $36M Amid Actor's Divorce
Henry – who has given pop culture a new perspective on life after death – immediately had someone else coming through.
"I first want to start with this man who is insisting to connect. This doesn't come through as a grandfather but he comes through in a fatherly essence. I am definitely getting a reference to a progressive decline in health," Henry told Lauer, adding, "There is a feeling of appreciation of where he was when he died. I refuse to die surrounded by doctors or die in a hospital, withering away."
Fighting back tears, Lauer replied, "Tyler was talking about my father who passed away at 1997. At his request he spent the last few weeks of his life at home in hospice care."
SLIDESHOW: 30 Tragic TV Stars Who Died Too Soon
Although that could have been just a coincidence, the rest of the reading was not.
"Your father is showing me a reference to coins. A coin collection," said Henry, to which Lauer responded, "I have a couple of silver dollars from him but not a lot."
Article continues below advertisement
"He is saying that there was three but that now there are two. How many coins do you have, Matt?"
"I think I have two. Yes, I have two," Lauer added.
When teasing the segment on this morning's TODAY, co-host Savannah Guthrie asked Lauer how he did not cry during the reading.
Lauer answered, "I am not the person who is going to let it go at that moment. But I did cry when I got home."
However, the eyewitness source told RadarOnline.com that he didn't wait until then to let loose.
Said the eyewitness, "Matt was in tears as soon as the cameras stopped rolling and he actually had the crew stop once or twice during the reading to compose himself!"
Watch Lauer's dramatic breakdown in the video below to see what else his father had to say.
Season 2 of Hollywood Medium with Tyler Henry premieres Wednesday, August 10 on E!