Jenelle Evans Slammed By Fans & Family For Having Three Different Baby Daddies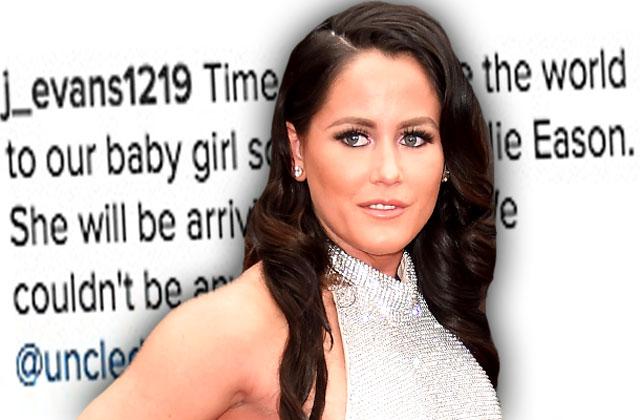 Jenelle Evans "could be any happier" about welcoming a baby girl with boyfriend David Eason, but the same can't be said for her fans and family! The Teen Mom 2 star received backlash for announcing her pregnancy with her THIRD baby daddy.
"Time to introduce the world to our baby girl soon, Ensley Jolie Eason," Evans, 24, captioned a photo of her boyfriend holding her baby bump. "She will be arriving Jan. 28th. We couldn't be any happier!"
Article continues below advertisement
Evans is already mother to son Kaiser, 2, with ex-fiancé Nathan Griffith and Jace, 7, with ex-boyfriend Andrew Lewis. Evans' mother Barbara currently has full custody of her oldest son.
The reality star's own family didn't congratulate her when the announcement was made.
"It makes me sad for my poor nephew who've I've watched him struggle over the years of all the hardships he's had to go through," Evans' sister Ashleigh Wilson wrote in a now-deleted Facebook status. "One day he's gonna resent his mother and say wow!! Mommy only cares about hooking up with men and having different babies with different men while I'm being raised by someone else."
Wilson continued, "It's sad. Three babies all different dads before 25, no real job skills, no formal education, no life skills. I hope someday she realize that she's done a lot of hurt."
Evans didn't find support from her fans either, as they too bashed the soon-to-be mother-of-three for the announcement.
"Babies aren't a gift in the gift shop," a hater wrote on Instagram. "You can't give them back, well in your case you can just hand them over to someone."
Article continues below advertisement
"We would rather her tie her legs in a knot and maybe just raise the kids she already has," a second outraged fan wrote, as another slammed, "Congratulations, but you don't have to have a baby with every boyfriend you have."
Evans has yet to receive well wishes over social media from her TM2 co-stars.
Although news of the MTV star's pregnancy broke in April, she adamantly denied that she was expecting.