Exclusive
'She Could Not Breathe!' Jenelle's Ex 'Choked' Girlfriend In Nasty Fight, She Claims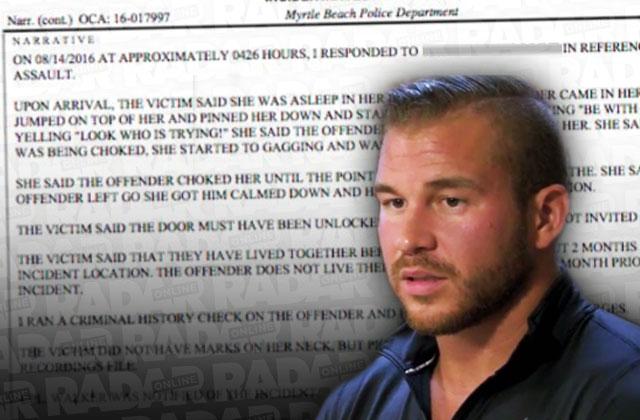 Jenelle Evans' ex "choked" his new girlfriend in a nasty fight that included "hanging" and "strangulation" attempts! That's the disturbing claim laid bare in a chilling new police report obtained by RadarOnline.com.
According to the Myrtle Beach Police Department Incident/Investigation report, Nathan Griffith's girlfriend Jessica Henry contacted the police at 4:30 am on August 14, 2016 and told them that Griffith assaulted her. The police listed the crime as "aggravated assault" and "burglary."
Article continues below advertisement
"Upon arrival, the victim said she was asleep in her bed when the offender came in her home and jumped on top of her and pinned her down and started to yell at her saying 'be with me!' and yelling 'look who is trying!'" the report stated.
"She said the offender then started to choke her. She said well she was being choked, she started to sic gagging and was in extreme pain."
Henry, 30, told the police officer that Griffith "choked her until the point where she could not breathe."
READ The Shocking Police Report
"She said once the offender left sic go she got him calmed down and he left in an unknown direction," the report continues.
Griffith and Henry have been dating for over a year and Teen Mom 2 star Evans was arrested in 2015 after throwing a glass at Henry in the driveway of her own home. Henry testified during that trial along with Griffith, but the jury did not believe their story and found Evans not guilty.
Article continues below advertisement
Henry and Griffith's relationship turned rocky over the summer. In fact, after the fight, Henry told police Griffith no longer lives with her.
"The victim said the door must have been unlocked, but the offender was not invited over," the report claimed. "The victim said that they have lived together before in the past for about two months at the incident location. The offender does not live there and gave his key up a month prior to the incident."
The police officer observed Henry's body for evidence of the assault, and wrote, "The victim did not have marks on her neck, but pictures were taken and will be dropped the recording file."
The officer ran Griffith's name in the system, writing: "I ran a criminal history check on the offender and had no prior domestic charges."
Griffith was arrested on August 21, 2016.