Feud Reignites: Farrah Abraham Slams The Kardashian Sisters For Dating 'Black Guys'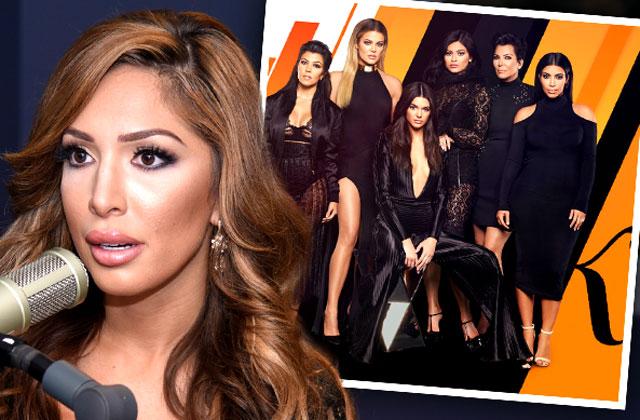 Farrah Abraham has gone after the Kardashian sisters once again, this time calling out their taste in men!
In a podcast interview on Allegedly with Theo Von and Matthew Cole Weiss, The Teen Mom OG star got candid about her dating life.
"Would you ever bang a lot of brothers?" Weiss asked her at one point.
"Brothers? What does that mean? Brothers? I have no brothers," the 25-year-old answered, confused.
Article continues below advertisement
"No, no, no. A lot of black guys," Weiss replied. "Are you into black guys or not? I just ask everybody."
After a pause, Abraham answered: "I'm really not into black guys. I think that's more of a Kardashian thing. God bless them. I think there's a lot of attractive black men."
Ouch! As RadarOnline.com readers know, the Kardashians are famous for choosing African American men: Kim Kardashian married Kanye West; Khloé Kardashian is divorcing troubled athlete Lamar Odom;Kylie Jenner is dating rapper Tyga; and Kendall Jenner is rumored to be seeing A$AP Rocky at the moment.
While Abraham isn't totally off base with her comment, the adult film star seemed to be intentionally throwing shade at her reality star rivals.
As RadarOnline.com previously reported, Farrah went after Kim earlier this year in particular, telling Nik Richie during an interview that she had "surpassed" the mother-of-two.
"You are like Kim Kardashian. Anything Kim Kardashian says, automatic news. Do you put yourself into that category of Kardashian? Do you think you've surpassed Kim Kardashian?" Richie asked at the time.
"I've been beating out Kim on a lot of things," Abraham answered. "I conduct myself and my brand in a different way and my life in a very different journey. I think I'm doing very well, if not better."
Do you think Farrah is out to get the Kardashian klan? Let us know in the comments below!