Exclusive
D.B. Cooper Mystery Solved!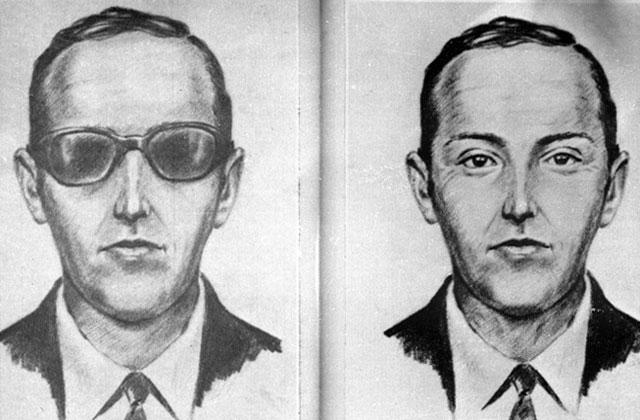 The FBI might have shuttered its probe into D.B. Cooper, declaring the case unsolved for good — but the agency knows the identity of the legendary skyjacker, and even killed him when he escaped from prison!
Those are the sensational revelations of a former top federal agent who told RadarOnline.com that Cooper was in fact a daring Mormon from Provo, Utah, named Richard McCoy Jr.
He claims McCoy, a highly decorated Vietnam War hero, pulled off a second skyjacking nearly five months after "D.B. Cooper" parachuted out of a plane over Oregon with $200,000 in ransom, some of which was later found partially buried on a riverbank.
Article continues below advertisement
But unlike Cooper, who seemingly vanished into thin air, McCoy got caught. And after breaking out of prison in 1974, he died in a shootout with FBI agents at age 31.
"When you look at the D.B. Cooper skyjacking and the second one, there are something like two dozen similarities so striking it's unbelievable," declared Russell P. Calame, former FBI bureau chief in Salt Lake City and one of the agents who arrested McCoy.
The crook was collared two days after the skyjacking and found $499,970 in marked bills at his home. Sentenced to 45 years in prison, he told agents: "I'm going to escape."
Sure enough, on Aug. 10, 1974, he used a handmade gun to break out of Lewisburg Penitentiary in Pennsylvania. He robbed two banks before agents killed him in a shootout at a Virginia hideout.
The FBI never charged McCoy with the Cooper skyjacking because they had a "watertight case" against him in the second skyjacking, explained Calame.
Article continues below advertisement
"But I have absolutely no doubt in my mind that D.B. Cooper and Richard McCoy are the same man. The evidence is just overwhelming."
Nearly 45 years after the case stunned the world, the FBI released a 161-page report to Radar. Although the report claimed agents "pursued more than 1,000 potential suspects and thousands of leads," it offered just morsels of inside information.
"This whole thing stinks," said Bruce A. Smith, the author of D.B. Cooper and the FBI — A Case Study of America's Only Unsolved Skyjacking.
"The FBI has lost a lot of evidence, but is anyone looking for it? Has the FBI's investigation been squashed by powerful sources claiming national security concerns?" asked Smith.
"Is the FBI just sloppy, overwhelmed, unlucky" — or, as Calame believes, covering its own tracks!