'He Has Not Been Faithful!' Bethenny Reveals The Truth About LuAnn's Fiancé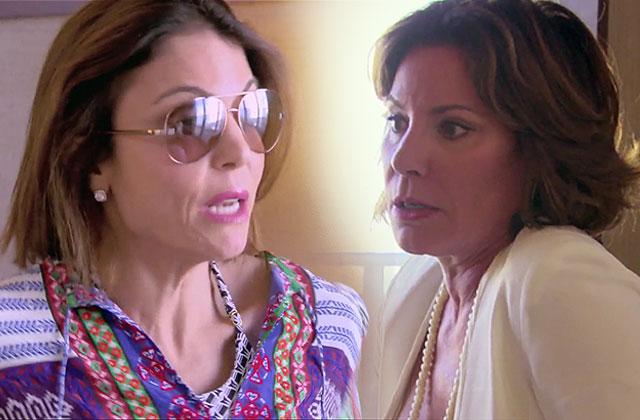 This week on The Real Housewives of New York City, the yacht party is in full swing when Tom D'Agostino Jr. shows up. Sonja Morgan has just finished crying over the loss of her "lover," who is now marrying her close friend and previously dated another pal (notorious D'Ag gets around town).
When Tom is finally anchored down with LuAnn de Lesseps, Morgan and Ramona Singer lament in different ways: Morgan wishes de Lesseps would acknowledge that she had been with D'Agostino while Singer wants de Lesseps to apologize for not asking her first.
Article continues below advertisement
When Morgan and Singer head to the top deck, D'Agostino is there. Morgan hangs back but in true Ramona form, Singer heads straight to D'Agostino and de Lesseps. LuAnn uses her body to physically block Singer from Tom, but nevertheless, Singer finds her way in.
"How are you?" she shouts.
"Good, Ramona. How are you?" D'Agostino says stiffly, looking anywhere but Singer's direction.
His exchange with Morgan is warmer if not bittersweet. With de Lesseps seemingly distracted, D'Agostino wraps an arm around Sonja, giving her a big kiss. "I want only the best for you," he says. Morgan looks even more deflated at this.
"I'm secure in our relationship," LuAnn later said in confessional. "I don't mind that he's talking to Sonja."
Watch the Video on RadarOnline.com:
"I never liked bald guys," Singer reminisces about her time with D'Agostino — right in front of him. "We went dinner like once, twice maybe."
D'Agostino corrects Singer about the situation, she is non-plussed: "I'm going to let you say that because you're with my friend now."
Article continues below advertisement
During the party, we learn that D'Agostino has been engaged before."My first fiancee," he says casually in conversation. Tom also manages to tell Ramona that she "smells like a grapefruit," which Carole Radziwill is convinced is flirtatious. Perhaps when you date a young vegan chef, food smells are innuendo.
The morning after, Morgan is still sobbing about D'Agostino. "I'm sad. And I didn't want to feel it before," she cries to Singer.
Singer then makes a big mistake, rehashing the whole drama in front of Dorinda Medley, who runs above deck to report to de Lesseps all that's been said. De Lesseps rushes below deck to give Singer, who is consoling Morgan, a piece of her mind.
"Stay out of my business. I want you to stop right now or I'm going to throw you off the side of the boat! Don't be the jealous bitch!" She says.
Singer doesn't back down, yelling at de Lesseps for talking to the press about her dating life. "In the press, you made a comment about Sonja and I dating Tom. You're doing it yourself. You put my name in the press. Keep your goddamn mouth shut! I don't need my name in the press."
Article continues below advertisement
Watch the Video on RadarOnline.com:
Upstairs, Medley drinks a mimosa, telling Jules Wainstein, "I thought I'd have a nice breakfast while I started shit."
Wainstein suffers in silence. Earlier, she had yet another FaceTime session with her nanny. Her husband, Michael Wainstein, is gone again with the children asking when he's coming home. She calls to confront Michael, who makes up some very weak stories. "You're supposed to be with your children," she says. "I almost want to shake him," she later tells the camera.
Meanwhile, in Miami, Bethenny Frankel is practically bursting at the seams to reveal the dirt she has on D'Agostino. Last episode, she described the "bombshell" of information she had to drop about LuAnn's new man, and this episode she is ready to disclose the details.
When the other Housewives arrive at the Miami hotel and start fighting over the rooms, Frankel has a preliminary discussion with de Lesseps. She congratulates her on the engagement while asking suspicious questions. "And you're 100% sure?" Bethenny probes. "190%" says Lu. "Are you monogamous?" asks B. "Of course! If we didn't want to be monogamous we wouldn't be getting married!" Lu responds defensively. "Do you trust him?" asks B with an arched brow. "I know Tom. He's my soulmate," Lu says definitively.
Article continues below advertisement
Watch the Video on RadarOnline.com:
After de Lesseps leaves the room, Frankel spills the tea to Singer and Radziwill.
"He has not been faithful to her," she blurts out. D'Agostino was spotted, according to Frankel, with "a girl that used to be a playboy bunny or a playmate."
Singer covers her mouth in shock.
"They were making out for over an hour at the Regency Hotel on Wednesday," Frankel says.
"No!" Singer shouts.
"It's a fact," Frankel replies.
"Say nothing!" Singer yells.
The Housewives are in shock it seems, even though all they've been talking about is how much this notorious man gets around Uptown. But now, Frankel says she has proof: "I have a picture of him and the girl making out."
Meanwhile, de Lesseps is in the other room, admiring her diamond.
The Real Housewives of New York City airs Wednesdays at 9 pm.