Teresa Giudice Betrays Melissa Gorga By Revealing Her Drinking To Husband Joe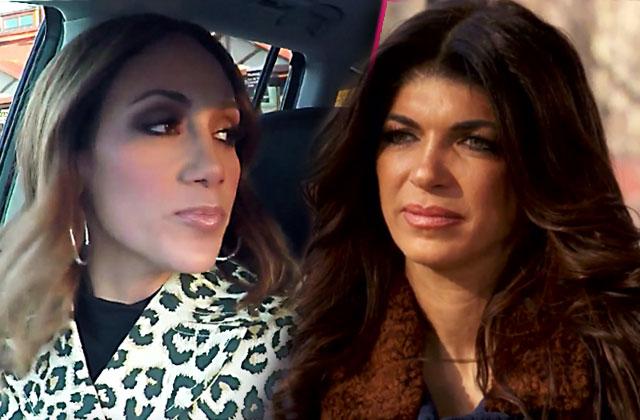 Is Teresa Giudice trying to cause marital issues between Joe and Melissa Gorga again? In a sneak peek of this week's The Real Housewives of New Jersey, Teresa betrayed her sister-in-law by exposing her heavy drinking to her brother!
"Your car has that new smell car," Melissa, 37, told Teresa, 44, as she responded, "You've definitely had too much to drink!"
When Melissa called her a "horrible driver," Teresa accused her of slurring her words!
Article continues below advertisement
"I'm going to call my brother and let him know how much you drank," Teresa said before telling her brother, "It's your drunk wife!"
Melissa defended herself by saying to her husband, "Your sister is terrible!"
But they didn't argue over Teresa's phone call, as she helped Melissa walk to her house.
The scene comes after years of tension. In earlier seasons, Melissa accused Teresa of spreading a rumor that she used to be a stripper. She also claimed Teresa told her brother Melissa would leave him for a richer man.
But Melissa and Joe have been fighting without the help of Teresa, as Joe called himself a "single parent" in a recent episode because his wife is now working.
"Joe has that old school mentality of the husband and the wife and the roles they play," Melissa, who owns clothing boutique Envy, said. "It is going to be difficult for me to figure out how to be a modern woman and go into the work field, but keep those traditional values because they really don't go together."
Are you surprised Teresa and Melissa are getting along? Tell us in the comments!