Emotional Stassi Schroeder Breaks Down Over Break Up With Patrick Meagher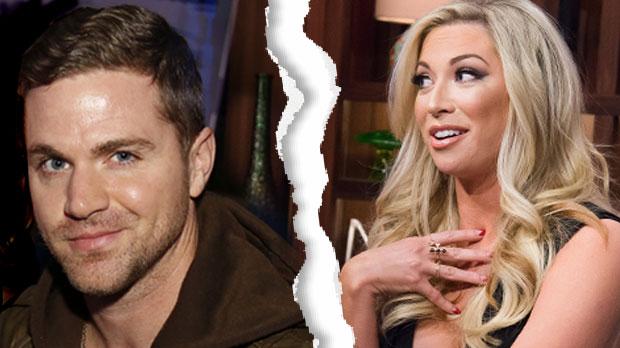 Looks like Stassi Schroeder will be going solo to Katie Maloney's wedding! The Vanderpump Rules star split from her on-again-off again boyfriend, and RadarOnline.com has all the details!
Schroeder, 28, and Patrick Meagher have officially broken up after two years of dating.
She revealed on her podcast, Straight Up With Stassi, that the rollercoaster relationship finally got to her.
"We've broken up and gotten back together so many times, it was like, 'Goda****, we can't do this pattern anymore, this routine of breaking up and getting back together every month,'" she cried.
Article continues below advertisement
"I feel like I tweeted it because I deserve and he deserves so much better than this relationship where no one ever knows if we're together or apart," she explained of her now-deleted tweet confirming their split. "We deserve something stable or steady."
"It's not about getting rid of Patrick," she admitted. "It's about getting rid of this routine. We fight all the time."
"This is a whole different type of break-up," she said, comparing it to her split with Jax Taylor. "It's like a whole different type of thing. I didn't lose any feelings for him. None of that changed. It's just, like, I can't handle this. Like, you don't fit into my life. You don't try to fit into my life enough, and we keep fighting, and I can't handle breaking up all the time."
"Normally, when we've broken up, I don't get that upset because I feel like it's going to be OK, you know what I mean?" she concluded. "I don't feel that way. I'm trying to be an independent, strong, 28-year-old woman who doesn't want to settle for this weird pattern. And it's not about settling for him. He's a wonderful man. Nobody would be settling by being with him. It's settling for the way that we are together. I can't settle for that."
Article continues below advertisement
The couple first met when the reality star tweeted at Meagher after he did a radio segment on soul mates with his Sirius XM co-host Taylor Strecker.
Strecker previously told RadarOnline.com exclusively that she encouraged Meagher to pursue Schroeder, revealing that, "he called me and was like this crazy girl from a reality show is tweeting me that she wants to date, and I was like what's her name?"
"And he said Stassi, so I was like DO IT!" she exclaimed. "Because I knew then we could be best friends. So I used Patrick to make Stassi my best friend."
Do you think Schroeder and Meagher will get back together? Tell us in the comments!