Serena's Heartbreak: Williams' Dad Suffers Debilitating Stroke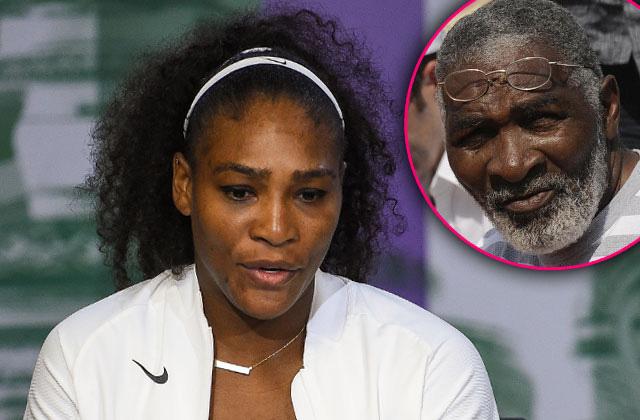 Serena Williams' Wimbledon glory has been overshadowed by a dark family tragedy, RadarOnline.com has learned: Her father, Richard Williams, recently had a stroke and has since been experiencing debilitating memory issues, his wife told RadarOnline.com.
Lakeisha Williams, Richard's current wife confirmed that he did have stroke and was released from the hospital last week. Shockingly, the medical crisis unfolded BEFORE Serena's Wimbledon victory, but she managed to keep the secret from fans.
Article continues below advertisement
"His condition is fair – he's up and walking around but he's not at 100 percent," she told RadarOnline.com in an exclusive interview.
Although he is able to get around, Lakeisha said that the battle for a full recovery is far from over.
"He needs speech therapy, psychological therapy and physical therapy but for now he refused," she said. "I'm trying to get him under control and relaxed so that when we come back from out of town we could try to get that going. But he doesn't wish to be bothered with anybody."
"His mind is thinking that they're going to put him back in 'prison' – which is what he calls the hospital," she said. "He thinks we are just going to take him back to the hospital, but that is not correct."
In fact, Lakeisha believes that Richard, 74, is under the impression that he never had a stroke to begin with!
"His mind is telling him that since he was once in charge of his life, after what's happened he's not accepting it. To him he's a normal person – nothing happened to him," she told RadarOnline.com.
Article continues below advertisement
As of now, it is unclear is the tennis player's father will ever be the same. But Lakeisha is hoping for the best and in the meantime is coping with her husband's new condition.
"We have to let nature take its course," she said. "I've been with him a long time so I know what he's trying to say. It's like training yourself for your child – like a baby, you have to think for them."
Sports fans know just how close Richard was to Serena and sister Venus, coaching them from a young age and helping to mold them into the tennis phenols they are today.