Introducing 'RadarOnline Shop Celebrity Style'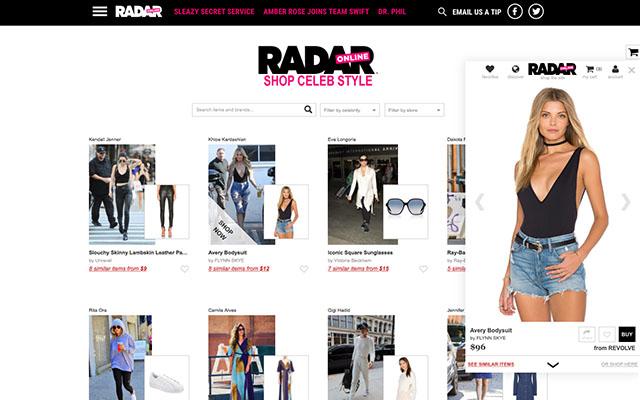 Dreaming of those high rise jeans Kendall Jenner wore to lunch with Kim Kardashian last week? Envious of Rihanna's green lace dress she just wore to dinner in New York? What if you could shop the products seen on your favorite celebrities—in one click? Get ready.
Introducing Radar's "Shop Celebrity Style!" It's an online store that empowers you to instantly discover and "favorite" items worn by celebrities. Once you're ready to checkout, purchase multiple products from multiple retailers through the SmartCart in one single checkout or directly on the retailer's site.
Article continues below advertisement
● Discover what's trending
● "Favorite" products to purchase now or later
● New photos added daily featuring the latest celeb outfits
● Explore affordable similar products curated by a team of stylists
● Purchase through the SmartCart or on your favorite retailer's site
How does it work?
1. Click
Browse hundreds of photos of your favorite celebrities on our "Shop Celebrity Style" store. You can even filter results by brand, celebrity, or store. Click on an image to learn more about the product your favorite celebrity is wearing. Not ready to splurge on a $3,000 leather tote bag? We totally get it! Below each image is an option to browse similar items that cost a fraction of the price."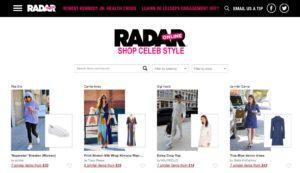 2. Choose
Once you've decided what to buy, add the item to the SmartCart. Not only can you view item images and product details, but also the SmartCart allows you to "favorite" items and explore a discover feed full of related content. You can even buy multiple celebrity influenced products, from multiple retailers in one checkout—all without ever leaving Radar. Plus, our "shop the look" experience is updated daily with the most recent celebrity images. It's pretty awesome.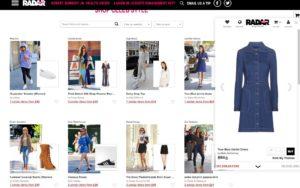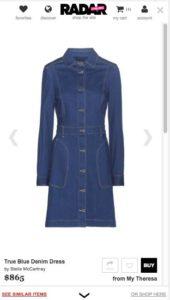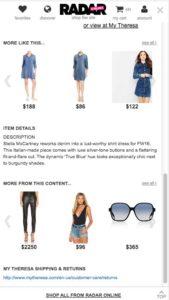 3. Checkout
Once you're done shopping, checkout seamlessly by creating an account. Sign up with your Facebook log-in, email address, or check out as a guest. Enter your shipping and billing information and then complete your purchase. You're all set!