Epic Showdown: Kylie Jenner & Nemesis Blac Chyna FINALLY Meet Face-To-Face!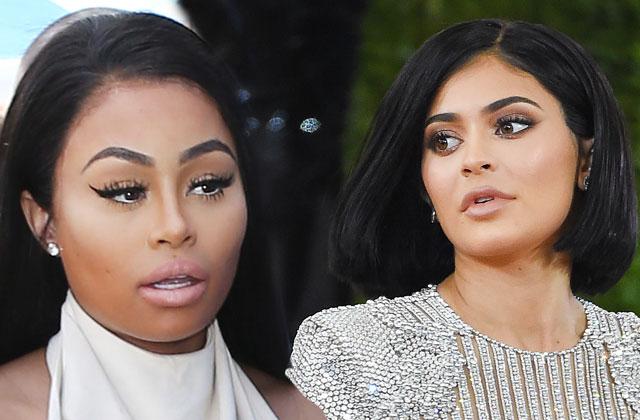 Does the drama ever stop in this family?
On last night's episode of Keeping Up With the Kardashians, Kylie Jenner finally faced off with her boyfriend's ex and brother's current fiancee, longtime archrival Blac Chyna.
But first, Rob Kardashian dropped a huge bomb on his three sisters, Kourtney, Kim and estranged BFF Khloe.
When Rob called a meeting between the older siblings, the girls assumed he just wanted to apologize for not giving them the heads up that he had proposed to his girlfriend of just a few months. To their shock, he had a different agenda.
Article continues below advertisement
"There's one more thing I have to talk to you guys about, but I don't want you guys to get mad," he said sheepishly, turning red.
"You're having a baby?" Kim guessed, likely praying she wasn't right.
"Yeah," Rob answered.
Kim and Kourtney managed unenthused congratulations, while the usually outspoken Khloe just hung her head between her legs.
"She's not a bad girl, she's really loyal," Rob insisted. "Obviously I want you all a part of it. It's going to happen. There obviously needs to be a talk between all of you guys, because she's not going anywhere. I don't want it to be like you don't all have a relationship."
Kim, who was close friends with Chyna before little sister Kylie started dating the onetime stripper's baby daddy Tyga in 2014, agreed that they would all talk, though she didn't promise any miracles.
Meanwhile, Kylie confided in her family over a fancy dinner at Los Angeles' most popular restaurant, Nobu, that she's suffering from spotlight-induced anxiety.
"I know I'm not supposed to be famous. I can feel it deep down inside," Instagram-obsessed Kylie later told Kourtney and Kim. "I care too much, I read too many things."
Article continues below advertisement
She eventually found comfort in a successful Lip Kit sale— and through a sit-down talk with Chyna at mom Kris' home.
"Her and I were talking about Tyga a lot and what went down in the beginning, she was like, 'Well he would still text me,'" she later told a shocked Khloe, Chyna's harshest critic.
Despite the cheating allegations, the two women hashed out their issues and agreed to move forward.
"A weight has just been lifted off both of our shoulders," Kylie said, adding that everyone should make up and become "one big happy family."
Will Khloe ever come around? Sound off in the comments.