Exclusive
Kimye Feud Bombshell: Kris Is Team Taylor! Jenner's Plot Exposed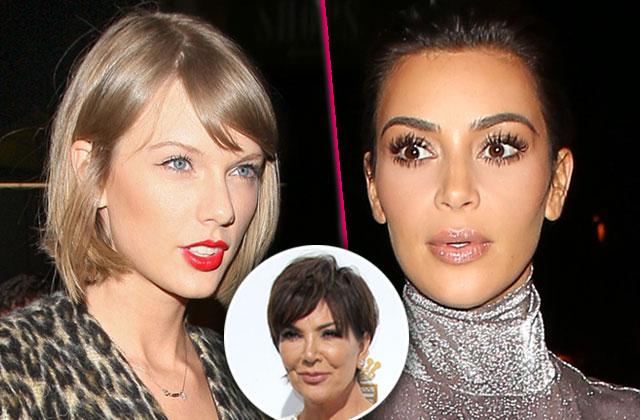 It's the twist in the Taylor Swift and Kimye feud that no one saw coming: Just one day after Kim Kardashian came out swinging against the "Bad Blood" singer in support of husband Kanye West, RadarOnline.com has learned that her own mother, Kris Jenner, is plotting against her!
As Kardashian, 35, continues to plot her next move against nemesis Swift, a source told RadarOnline.com that Jenner is trying to shut her down.
Article continues below advertisement
"Kris told Kim that she is not allowed to mention Taylor's name from this point forward," a Kardashian family insider said. "Kris knows how much power Taylor's camp has and she does not want her attacking any of her daughters anymore. She's had enough and wants this feud to end now."
In an even more bizarre move, as the feud swirled this weekend, Jenner gushed about Swift in an interview with Australian radio show Kyle & Jackie O this weekend, calling her "a lovely girl" and defending her dating choices.
But will Kardashian listen to her mom and stand down?
As fans following the war between Kardashian and Swift, 26, know, last night Kardashian broke the internet again by posting a video on her Snapchat suggesting that the Swift lied about her involvement in Kanye West's infamous new song, "Famous."
According to the insider, however, the "bad blood" between Kardashian and Swift started long before the KUWTK star's interview with GQ, in which she first claimed that Swift knew West was going to call her out in his song.
"Kim has hated Taylor forever," the source told RadarOnline.com. "Taylor Swift is the one person in the world that is more famous than Kim and Kim cannot stand it!"
"Kim is not stupid, and when GQ gave her the platform to get even more famous than she is at the expense of Taylor, she ran with it," the insider added.
Are you Team Taylor or Team Kimye? Let us know in the comments!