Presidential Election 2016
Desperate Hillary Rips Off Kim K With New Emoji Line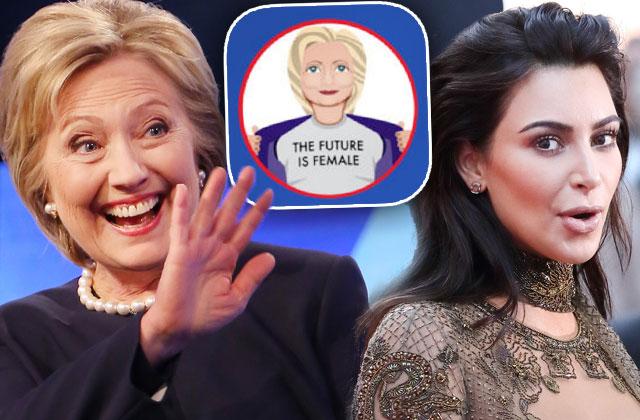 In a bid to attract millennial votes (and millennial cash), Hillary Clinton now has her very own line of emojis!
Taking a cue from Kim Kardashian, Blac Chyna and more, Clinton premiered the Hillarymoji line on Thursday. Now, users have the opportunity to send friends a dancing Clinton dressed in her trademark pantsuit, Clinton as Rosie the Riveter, and a "woman card." There's also an emoji in which Clinton resembles Wonder Woman, clad in a costume with an "H" inscribed across her chest.
Article continues below advertisement
Clinton and technology haven't exactly gone hand-in-hand. In addition to her ongoing email scandal, Clinton previously faced backlash after tweeting to young voters last year.
She wrote, "How does your student loan debt make you feel? Tell us in 3 emojis or less."
In one tweet characteristic of the backlash, a user wrote, "3 emojis can't begin to explain the pain of $200k in student loan debt."
But this new project isn't all for entertainment and voter engagement. The emoji app also acts as a way for Clinton to collect donations. "In addition to sending stickers to friends, there's also a call-to-action in the keyboard itself that directs people to Clinton's donation page," CNNMoney reported. "Those who donate will have access to a special Clinton emoji."
What do you think of Hillary's emoji line? Let us know in the comments!