Dr. Drew Trashes Farrah Abraham — Secretly Wants To Strangle The 'Teen Mom' Star!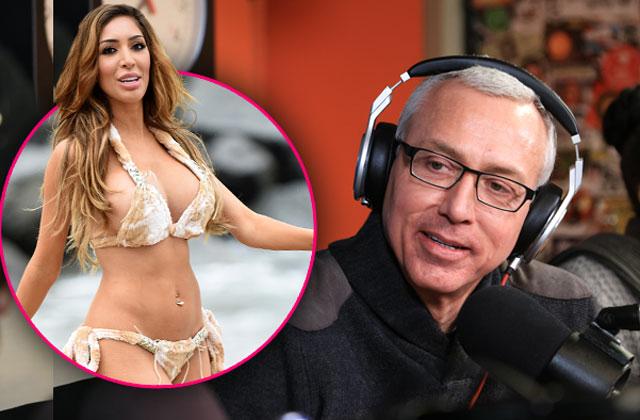 Dr. Drew isn't a fan of Farrah Abraham — and he isn't afraid to admit it!
Interviewing with Allegedly with Theo Von & Matthew Cole Weiss, the TV host and addiction specialist admitted that if he could strangle any Teen Mom star, it would be Farrah.
"I'd strangle Farrah. Sorry Farrah," the 57-year-old admitted plainly.
"She's not awful. She's frustrating. She's not awful. She suffers," he then qualified. "I feel bad for her a lot. But she can be very frustrating."
Article continues below advertisement
Later, Dr. Drew insisted that he's become more fond of Abraham over time, despite her annoying quirks.
"I like her now. She's a beautiful woman. She's a woman now," he told hosts Von and Weiss. "I dealt with her when she was a teenager."
But when it came to the Abraham's x-rated profession — starring in adult films — Dr. Drew slammed the 25-year-old's lacking skill set.
"Yeah porn is her job. She has embraced it. It's what she's going to do. She doesn't have other skills or training," he shrugged. "She has a mom that encourages to do that stuff. And a dad who's ambivalent about it and has had a tough time herself. Then, she was lead in by people she trusted and feels like she was exploited. She's trying to navigate the world she lives in. I feel bad for her."
When asked if he's ever been attracted to any of the stars of Teen Mom, Dr. Drew revealed his paternal side.
"Me? No, no. It sounds like you're saying this about my kids or something. That sounds funny to me," he scoffed. "Not only that, I see them as who they are. They are not objects of anything for me other than people who have been really struggling. You don't get pregnant at 16 because you don't have liabilities. That is an at-risk youth by definition."
Do you think Farrah will hit back at Dr. Drew's insensitive comments? Let us know in the comments below!