Amber Rose Slams Kanye West For Defending Ian Connor Amid Rape Accusations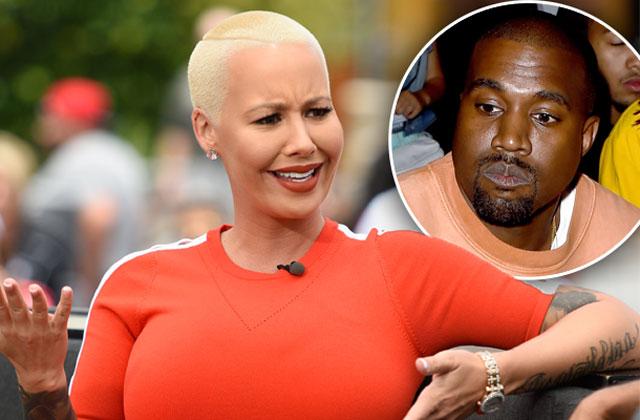 Amber Rose threw some major shade at ex-boyfriend Kanye West this week, accusing him of defending alleged rapist Ian Connor, who happens to be the rapper's stylist/creative director and a consultant.
In an interview with The Daily Beast, the 32-year-old revealed that numerous women have contacted her, claiming that Connor, 23, had sexually assaulted them.
"One thing that's very troubling that's going on right now is the situation with Ian Connor," Rose's interviewer noted on the subject. "I believe it's up to seven women who've accused him of sexual assault, and yet many of his famous hip-hop co-signers — Kanye, Drake, A$AP Rocky, etc. — have remained silent."
Article continues below advertisement
"Because I have my SlutWalk, all of the women who've accused Ian Connor have reached out to me as well," Rose said. They want to come to my SlutWalk and tell their story on my stage. I have that platform for them to do so. I'm not a lawyer. I can't prosecute anyone or say, 'What she's saying is exactly the truth.' I wasn't there."
"Honestly, seven came out and I'm pretty sure 21 women have reached out to me so far," she continued. "So I'm assuming there are more stories coming out. It's innocent until proven guilty, but when you have 21 women from all over the world that do not know each other but have similar stories, it gets to the point where it's like…enough."
Watch the Video on RadarOnline.com:
Of course, Connor was quick to deny Rose's allegations, taking to Twitter to blast the blonde beauty.
"Lol Cuz This Bald Head B*tch Is Now The Law. 21? Why The F*ck Hasn't 1 Charge Been Pressed? Somethings Not Right," he wrote.
Never one to shy away from controversy, Rose replied: "I never said I was the law u lil troll but I'm so happy to have them on my Slutwalk stage to tell their stories. Tune inn. And now your temporary attention will be for allegedly raping women. Good job…a**hole."
Do you think Kanye will finally step in on the feud? Let us know in the comments below!