Exclusive
Cruel Blow: Late Whitney Houston's Family Sued, Slapped With Restraining Order For Selling Emmy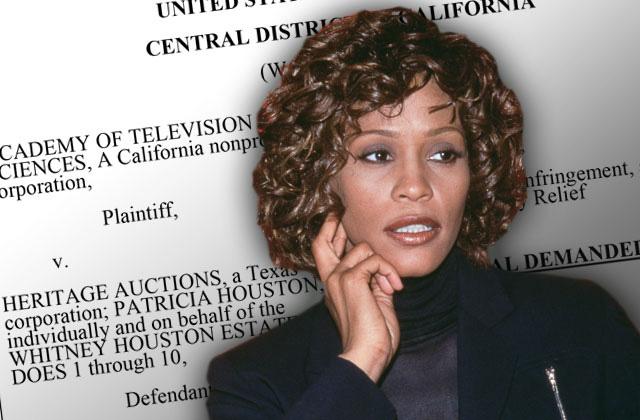 The Academy of Television Arts & Sciences wasn't bluffing when they threatened legal action against Whitney Houston's auction company for selling the late star's Emmy statuette.
The Academy has sued Heritage Auctions, Whitney's sister-in-law Pat Houston, and the Whitney Houston Estate, claiming they violated copyright laws in their attempt to auction off the award for a starting bid of $10,000, RadarOnline.com can exclusively reveal.
Article continues below advertisement
"The Television Academy seeks to enforce its rights with respect to the Houston Emmy, including enjoining its sale and/or recovering any and all profits obtained from the sale," lawyers state in the United States District Court documents obtained by RadarOnline.com.
READ THE EXPLOSIVE COURT DOCUMENTS
The Academy claims the statuette is their property, which the defendants are prohibited from selling at the June 24 auction in Beverly Hills.
They are seeking damages exceeding $10,000.
In a separate filing, The Academy slapped the Houstons and Heritage Auctions with a restraining order, demanding the court stop the auction just two days before the planned sale.
Heritage Auctions has yet to respond in court, but the company's president previously told RadarOnline.com that the Academy failed to provide any documents proving the singer agreed to their conditions when she received the award in 1986.
Article continues below advertisement
"The Academy of Television Arts & Sciences claims that at the time Ms. Houston received that Emmy statuette she signed an agreement that it would not be sold. We have asked the Academy multiple times to produce that signed agreement but still have not received it," Greg Rohan said, adding that the Academy did not prevent previous Emmy-related auctions from taking place.
"Why is the Academy now demanding return of Houston's Emmy when they did not stop over three dozen earlier public auctions the past decade of Emmy awards, almost all of them awarded to white recipients?" he continued. "Based on their behavior thus far, we think the Academy is simply trying to bully the Houston family, and we're going to stand up for our consignor, regardless of the cost."