Rock Bottom! Scott Confides In Lamar About Downward Spiral: 'I'm Scared'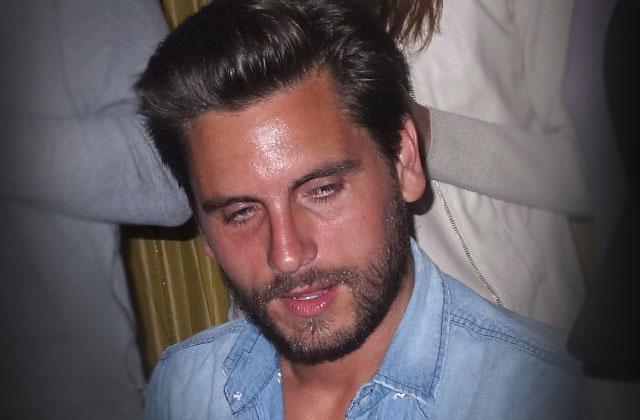 After his latest stint in rehab, Scott Disick and his bevy of barely-legal babes have been partying around the world, seemingly without a care in the world. But in reality, the party boy has been suffering without the support of his former love, Kourtney Kardashian, and her big family.
On the latest episode of Keeping Up With the Kardashians, the reportedly off-the-wagon reality star, 33, showed up to a family event after ditching the clan at Kanye West's New York fashion show the week prior.
Article continues below advertisement
But when the largely absent father of three arrived to Kris Jenner's home to celebrate the late Robert Kardashian's birthday with a traditional Armenian family dinner, he was looked exhausted, sick and sullen.
"I don't even know where I fit in with this family," he confessed to the cameras. "I don't even know how to act."
He abruptly left the table, and Khloe's troubled ex Lamar Odom followed him to another room for a chat.
The two struggling addicts discussed Lamar's near-fatal drug overdose last fall at a Las Vegas brothel.
"I was super scared when I came and saw you in the hospital," Scott told Lamar, not grasping the striking similarities between their two drug-addled lives.
He later gushed to the cameras about the fallen basketball great's "miracle" recovery.
"When I first heard what happened to Lamar, it was heartbreaking," he said in a confessional. "It's a miracle. He has another chance at life."
Article continues below advertisement
Though Lamar is reportedly now in a relapse and back to a world of women and partying, he told Scott that returning to his old life "isn't worth the risk."
"I'm scared, man," Scott responded.
Later, in a likely empty promise, he assured former BFF Khloe that he'll try to hang out with the family more often.
In other plots, Kris' much-younger boyfriend Corey Gamble, 35, called the 60-year-old momager his "perfect little antique," and finally convinced her to go on a roller skating date. (Kris complained that grandmothers do not engage in such activities.)
And in the least relatable segment, social media obsessive Kylie, 18, complained that she wished she weren't famous.
"I'm over not being able to go out and be normal for a second," she whined.
"Sometimes I just want to be a kid."
Rather than stop posting naked selfies on Instagram for perhaps a day or two, Khloe naturally suggested undergoing extreme transformations with help from a Hollywood prosthetics artist.
The paparazzi caught on to their elaborate plot, leaving the girls bewildered. (Perhaps the E! cameras gave it away?)
Keep up with the famous family in real time on RadarOnline.com.