Richard Simmons Hiding Sex Change Secret Despite Post-Transition Photo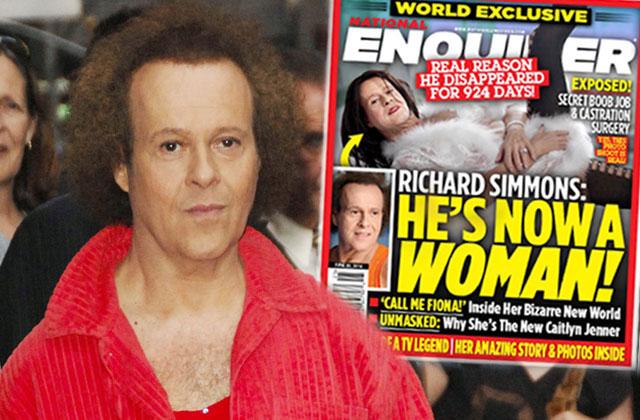 Richard Simmons secretly transitioned from a male to a female while in hiding for 924 days. Despite a post-surgery photo, the fitness guru refuses to admit his bombshell sex swap!
"It's not true," Simmons' rep Tom Estey said in a statement of The National ENQUIRER's report. "He is not transitioning into a woman. He has decided to live quietly the last few years. He had knee surgery a few years ago and has a bum knee. He is still on Twitter and Facebook and works behind the scenes continuing to inspire and motivate people to lose weight. When he decides to come back, he will come back."
Article continues below advertisement
Etsey explained that the actor was admitted to the hospital over the weekend for dehydration.
"He's a human being," he said. "He was in the public eye for over three decades, but he deserves his privacy. He should be able to have a private life. He just needed a break. He is still taking care of the people who need his help."
Despite the denial, The ENQUIRER released never-before-seen photos of Simmons living as Fiona, his female identity!
"This is not just Richard Simmons in drag," a source told THE ENQUIRER. "This is Richard dressed as a softly spoken woman named Fiona!"
Simmons has undergone procedures to live fully as a woman.
"He had a boob job, and his breasts are like he had been taking hormones to make them grow," the insider said. "He had huge mood swings, too, which we attributed to hormone therapy."
The comedian has reportedly been out of his Hollywood Hills home dressed as a woman.