'RHONY' Recap: LuAnn Finds Her 'Soulmate' — With Sonja's Hookup Buddy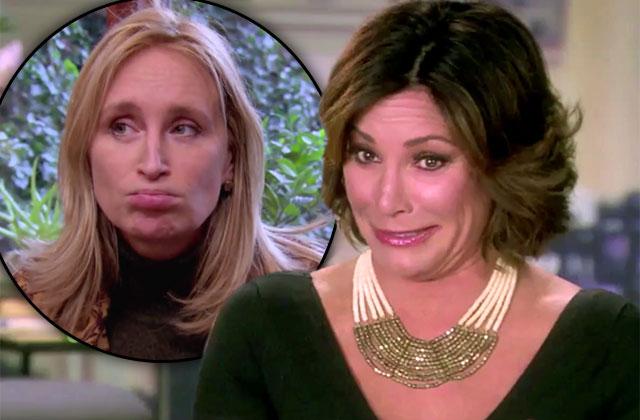 LuAnn de Lesseps is counting her chickens before they hatch and she's counting them out loud!
"I'm in love and I'm probably going to get married," she tells Sonja Morgan with a big grin on her face.
In episode 11 of the Real Housewives of New York, the Countess is flush like the color of a bright Rosé and bubbling over like a bottle of Tipsy Girl Prosecco that's rolled around in the backseat of a cab too long.
Article continues below advertisement
"I found my soulmate!" she giggles. Her soul mate is Tom (Thomas D'Agostino Jr.) who has been linked to three (or more) of the seven Housewives.
Morgan, trying to do the math in her head, asks de Lesseps when she first started dating D'Agostino, making a face; the timeline doesn't make sense.
"I was with him like a month ago," Morgan confesses to the camera. "He may be her soulmate but I've been doin' him forever."
But Morgan is dealing with her own issues. After being banned from the Berkshires and later shunned at Ramona Singer's soiree, the Tipsy Girl Prosecco mogul decides she is going to "quit" drinking.
"It's not worth it" she tells de Lesseps, who is so punch-drunk she can barely offer a toast in solidarity. "Can you believe I'm going to get married again?!" she gushes as she floats away on a heart shaped cloud.
Article continues below advertisement
Meanwhile, Ramona Singer doesn't "do lunch" she "does business," and in this case, her business is hair extensions that look like they were pulled right out of the head of an American Girl doll.
De Lesseps meets Singer to try on some hair pieces, but let's be real, she just wants to tell Singer about her soulmate D'Agostino Jr. As we know from previous epsiodes, the Notorious D'Ag has been on either "a couple" or "7 or 8 dates" with Singer as well.
"Tom and I are in love and he wants to marry me," the Countess blurts out as a frizzy-haired young man sews the locks of an old Samantha doll into her classic bob. Singer is nonplussed to say the least.
"He calls his ex every day and tells her he loves her and he gave her a gold bracelet for Christmas," she warns.
"Can't you just be happy for me?" de Lesseps pleads. "Even if you did know that why would you burst my bubble?" But de Lesseps' bubble is made out of some military grade, high intensity bubble gum, not yet approved by the FDA. No one can burst this bubble, not even the Big B.
Article continues below advertisement
Later, Bethenny Frankel wants to host a Tequila tasting trip with the Housewives, where she plans to exclude Morgan and possibly de Lesseps.
Last season, de Lesseps got a little too wild for some of the wives: "It would be irresponsible from an alcohol perspective," she notes, adding that Carole Radziwill would not be happy. As it turns out, Radziwill is still mad at de Lesseps for calling her a pedophile.
Frankel soon meets with de Lesseps to discuss the trip and, frankly, to be mean to someone on camera. But the Countess has other plans.
"I can't believe it. I met my soulmate!" Frankel blinks as de Lesseps recounts Singer's sour reaction. "Why can't Ramona just be happy for me?"
"I think she is. I think that maybe he used to be a player," Frankel replies. The conversation grows tense as they argue about what constitutes dating. Is it one date or four dates? Is it a hook-up?
Article continues below advertisement
"What's dating then? Having anal sex?" Frankel asks, to which the Countess shoots back: "I don't want to talk about it anymore."
Watch On RadarOnline
Frankel pivots the conversation to the Tequila trip so she can dangle an invite in front of the Countess. "I don't know if Carole hates you. It's just that Carole's not friends with you," she says, explaining why she's not offering an invite.
Of course, the Countess just hears the word tequila and wastes no time with Frankel.
"Sounds like a wonderful trip. I'd love to come. I have to go meet Tom at the Carlyle," she replies in rapid fire. "Oh and thanks for the drinks!"
Even the Big B can't stop a (drunk) gal in love.
The Real Housewives of New York airs 9 pm EST Wednesday.