'I Don't Have Anybody!' Bethenny Frankel Faces Health Crisis Alone On 'RHONY'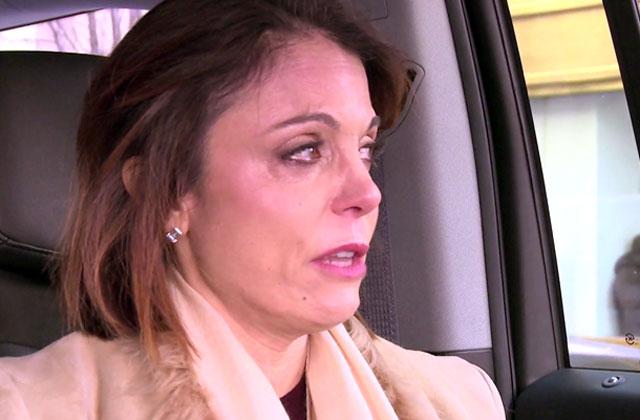 Reality can be like a drunk selfie — disappointing and hard to look at. On episode 13 of The Real Housewives of New York City, the girls do everything they can to avoid looking at their own realities.
Jules Wainstein's marriage continues to crumble and her struggle with eating becomes more apparent; Bethenny Frankel's medical crisis exposes just how alone she really is; Sonja Morgan, the "high class hoarder," reveals the years of literal and emotional baggage she's been hiding in the basement of her townhouse; and LuAnn de Lesseps is so high on love that she can't even see reality.
Article continues below advertisement
In a make-your-own pizza parlor somewhere in downtown Manhattan, Wainstein, Dorinda Medley, Carole Radziwill, Frankel and Ramona Singer gather together to discuss vagina problems. Wainstein tries and fails miserably to articulate to Frankel that a serious injury has befallen her lady parts. Finally, she just shows a photo and everyone cringes.
Frankel then takes over, talking about her lady parts.
"Oh you're so lucky that Dorinda was there for you," Wainstein says, to which Frankel claps back, "Ya, can you imagine if you were with me!?" and gives an evil cackle.
That's when Wainstein really starts to unravel. First, she makes a calzone instead of a pizza, stuffing it with all sorts of strange ingredients. She then tells Radziwill that she's going to put her pain meds in there, and though Radziwill thinks she's joking, no one is very sure. Instead, Radziwill plays the concerned and nosy friend asking Wainstein why she's on Adderall and how much she weighs.
Wainstein seems stressed, telling Radziwill all the medicine she's on and that she's sees a therapist and "shrink" once a week.
Article continues below advertisement
"I'm…I'm ok. I'm ok," she insists with a shaky voice. When the pizzas come out and her calzone is laid bare, everyone realizes that Wainstein baked a knife, fork, and sauce cup inside her calzone, giving an unknowing Frankel the first bite.
Later, Medley visits a teary eyed Wainstein, who reveals that her husband has been absent in her time of need and it's weighing on her.
"When I had my injury I was calling Michael and he never answered. My brother had to come and bring me to the hospital. It happened at two and I didn't hear from him until eight. I mean where are you?" she sobs. "Nobody takes care of me."
In a dusty old townhouse on the Upper East Side, Medley provides her other shoulder for Sonja Morgan to cry on.
Morgan calls herself a "high class hoarder" with a self-deprecating smile. And a hoarder she may be. Her basement is packed to the brim with junk; damaged curtains, baby clothes and a hair dryer that everyone's mother had in the eighties. When faced with the thought of throwing away old stuffed animals the smile fades and she starts to break down and cry, saying: "It's not that I'm not over him it's that I'm not over us as a family…when we used to be a family."
Article continues below advertisement
Morgan isn't the only one feeling alone. Frankel, who is dealing with bleeding and discomfort due to large fibroids in her uterus, also seems to be struggling.
The Skinnygirl mogul's driver, Kevin, brings her to the doctor and on the way she looks to him for comfort.
"I spend multiple hours of the day in the car with Kevin. He knows everything about me. TMI to the max. Kevin is like my therapist and he loves me," she says of him in confessional. "I get close to the people that work with me. They're like family." Except that they aren't family and that becomes crystal clear when she leaves the doctor's office in tears.
Frankel will need to be in the hospital for three days and go through major surgery. She'll need to draft a living will and have a medical proxy. She soon cries in the car, "I don't have a mother or a family member to call about this. I feel lonely…I feel so lonely. I don't have parents. I don't have anybody." Kevin, forever loyal, tells her everything is going to be all right.
The Real Housewives of New York City airs Wednesdays at 9pm.
Watch The Video On RadarOnline