Orlando Shooting Survivors Recall Massacre Horror In Chilling Video Interviews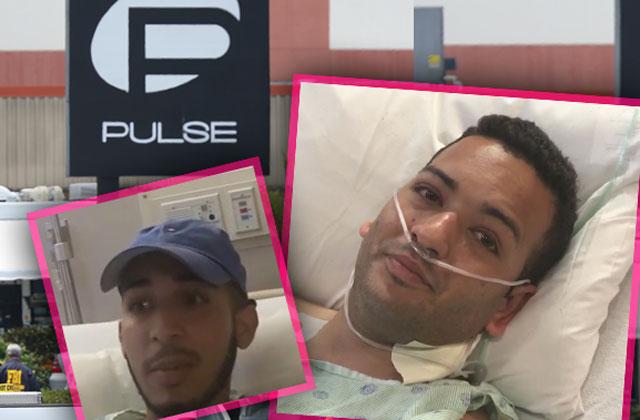 As survivors of the Orlando massacre continue to recover in the hospital, some have come forward to share new details of the horrific events in Pulse nightclub on Sunday.
Norman Casiano suffered four bullet wounds during the shooting. The 25-year-old is now getting ready to go home.
"I couldn't believe it was happening," Casiano said of the massacre, revealing that he and two friends, who unfortunately didn't survive the shooting, were gunned down in the bathroom stalls of the nightclub.
Article continues below advertisement
"He laughed, and as he's laughing, that's when he fires through the whole front of the stall," he recalled of gunman Omar Mateen.
When police arrived, Casiano was able to crawl over the bodies and reach safety.
Victim Felipe "Tony" Marrero was also interviewed, remembering Mateen deliberately "blowing up people's heads" during the horrific rampage.
"The only way that I had a chance to survive was to make it seem like I didn't have a head," he said. "But he still shot me in the back."
"I'm a survivor and I never give up," Marrero continued tearfully. "I was thinking about it . . . under the sofa, I was like, 'Is this it?'"
As cops came on the scene, Marrero was able to drag himself to an officer, who carried him from the club to safety.
"If he sees this video, thank you so much," he said to the camera, hoping to identify the man who saved his life.
Watch the Video on RadarOnline.com:
Meanwhile, Dr. Michael Cheatham, a trauma surgeon in Orlando, warned during a conference Monday that the death toll could still rise, revealing that six hospitalized victims remain in critical condition.
"I would be surprised if we do not see the death toll rise from this," he cautioned. "We're doing everything that we possibly can to pull them through this, but they are critically ill as a result of their injuries. I know that those patients and their families would ask for your prayers and your thoughts for their rapid recovery."