Exclusive
Muhammad Ali Wife Was Accused Of Elder Abuse: 'She's The Worst Thing To Happen To Him!'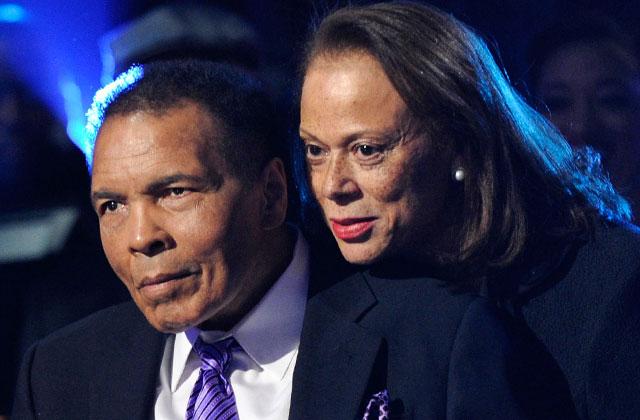 The late Muhammad Ali was treated like a prisoner in his own home, where he lived with his wife as he struggled through his final days, the boxing legend's heartbroken brother Rahman exclusively told RadarOnline.com.
"My brother doesn't speak, doesn't even recognize me," Rahman told RadarOnline.com in 2013. "He's in a bad, bad way. I cry because it breaks my heart. I would rather he dies sooner than later. The longer he goes on, so does his suffering and misery."
Article continues below advertisement
But it wasn't Ali's crippling Parkinson's disease that made his life intolerable.
"His wife Lonnie and her family are draining him, and there's nothing I can do about it," he said. "In my opinion, Lonnie's evil. Muhammad's a prisoner in his own home. He can't do anything for himself and she takes advantage."
While Ali lived in luxury, Rahman resides in a $512-a-month apartment in the family's hometown of Louisville, KY.
"If my brother had his faculties, I'd be living in a mansion because he always looked after me," said Rahman. "As it is, we're lucky to have $150 left after paying our monthly bills."
Rahman believes his sister-in-law married the late boxer for his money.
"She talks to him bad," he explained. "He doesn't even get fed properly. The last time we were together (for a July Gala in London honoring Ali), he was so dehydrated. You could tell from his lips. When I asked him how he was, I could tell from his eyes he was in a bad way. He just breathed heavy, a heavy sigh. It's pitiful."
Article continues below advertisement
An expert believed at the time that Lonnie's treatment of the famed boxer could be a form of elder abuse.
"Based on the statements of the brother, I would say it's a big red flag and this could be elder abuse," Dr. John H. Fullerton, a San Francisco-based geriatric care specialist, told The ENQUIRER. "The extended family needs to offer help and see what the response is. If there is resistance and they don't want any help, this would be a huge concern that there is elder abuse happening and the family should get a case manager involved immediately."
Rahman added: "I think she's the worst thing to happen to him. Parkinson's has hit his brain now, and he shouldn't be doing any more public appearances. But his wife makes him since she's getting money for it. It's all about the money."
Rahman claimed Lonnie – who's Ali's fourth wife of 26 years – will write him and Ali's nine children out of his will, replacing them with members from her family.
"When he dies, no one will get anything – zero," he said. "I'm still in contact with his children. I just spoke to Muhammad Jr., and he was concerned about his dad. They've all tried to get in contact with him, but we've all been pushed out."
Rahman said of his brother at the time, who passed away on June 3, "We just hope that he passes away gently. If his funeral was tomorrow, all the statesman in the world would show up – kings, queens, presidents, prime ministers. He touched everyone, from rich to poor. Everyone loves him. He's The Greatest."
A memorial service will be held Friday at 2pm at KFC YUM! Center in Louisville, KY for the late boxer, who passed away from respiratory failure after a decade's long battle with Parkinson's disease.