Exclusive
Muhammad's Only Biological Son Set To Expose Scheming Stepmom In Blockbuster Book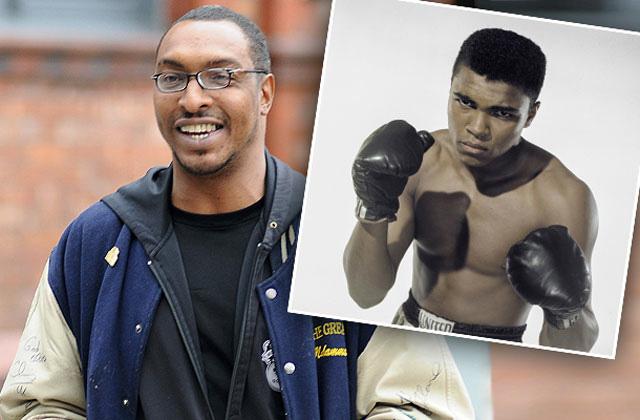 Muhammad Ali's only biological son is cut off from the late boxing champ's $80 million fortune — but sources tell RadarOnline.com he will cash in anyway by writing a tell-all exposing his scheming stepmother!
Muhammad Ali Jr., 42, has largely been on the outside looking in on his father's life ever since his father married fourth wife Lonnie in 1986. When he was allowed to have a final deathbed visit with his father before the champ passed away on June 3, it marked the first time he had seen him in more than three years.
Article continues below advertisement
"Ali Jr. was cut off nearly every way from his father and their family," a source tells Radar. "He even suffered the indignity of not being named a pallbearer at his father's funeral, while Hollywood types like Will Smith and even Muhammad's nephew Ibn were given the honor.
"He thinks he's got a compelling story to tell, and he fully plans to tell it now that his father has passed," the insider continues.
Ali Jr., along with sisters Maryum, Jamillah and Rasheda, was the product of Ali's second marriage. Ali divorced their mother Khalilah when Ali Jr. was just 5, but Ali's third wife, Veronica, still made them feel part of the family.
"They didn't get to spend a lot of time with their father, but then again, Muhammad was so busy with his boxing career they didn't see much of him anyway," the source says. "Veronica still allowed the children to visit their dad, and they got to know their stepsisters Laila and Hana, the girls Veronica had with Muhammad. "
Article continues below advertisement
But any relationship Ali Jr. had with his father ground to a halt when Ali divorced Veronica and married Lonnie in 1986.
"In Jr.'s mind, Lonnie schemed her way into his father's life and then ruled it with an iron fist," a source says. "He would go months without being allowed to talk to his father on the telephone, and years without personal visits.
"Jr. was just growing into a man when his father married Lonnie, and he says he lost his father when he needed a father the most. He can never forgive her for that."
While the source says Ali Jr. might still be in a position to lay a partial claim to his father's estate, "He's more interested in finding a book agent and being able to tell his story."
"Jr. is struggling financially, and while he stands to get a big payday from writing a book, he says he's more interested in setting the record straight on what the Ali family was truly like — and how they were torn apart at the hands of his stepmother," the source says.