Former Met Lenny Dykstra Reveals Secrets Of Charlie Sheen's Crack Den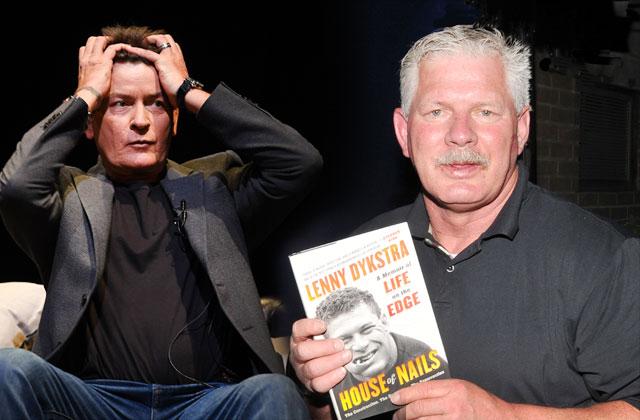 Former pro baseball player Lenny Dykstra reveals his wild and crazy past, and time spent inside Charlie Sheen's crack den.
In his new book, House of Nails: A Memoir of Life on the Edge, Dykstra explains that his life has been one of extreme highs and and lows. Following his retirement from baseball, he became a successful businessman worth an estimated $58 million, only to later lose it all and file for bankruptcy. Between 2012 and 2013, he was sent to prison for fraud and auto theft.
Article continues below advertisement
At one point, Dykstra ended up at Promises Malibu rehab center with Sheen who encouraged him to stick with the sobriety program. "Hey, man, I know what you are feeling," he recalls Sheen telling him. "I was just like you. I felt the same way, but you should try to stick it out."
Then, in 2014, Dykstra got a chilling phone call on a Friday afternoon from a woman sobbing on the other end. "Who is this? Who is this," he asked.
"It's Scottine. I'm Charlie's fiancée," she said, allegedly explaining that Sheen had been smoking crack and had not left his room in nine days. "Everyone told me that you are the only person that Charlie will listen to who has the balls to stop him," she said.
"Nobody knows about this room," the distraught woman insisted upon Dykstra's arrival at the mansion. "It's in the master bedroom, but it's behind a bookcase and you have to punch in a code to get in."
Article continues below advertisement
"OK, then you'll have to walk up the stairs with me and punch in the code. I'll handle it from there," he assured her.
After cursing out Sheen's security detail, who attempted to prevent him from entering, Dykstra made his way into the room, which he said was like something out of a movie, packed with art and sports memorabilia. Sheen was reportedly holding a phone and a crack pipe. "Charlie," Dykstra said, "I have to admit, if you're going to smoke crack, this has to be the best crack room on the planet!"