Sisters At War! Kourtney Kardashian Blasts Khloe, Calls Her A 'F***ing B****'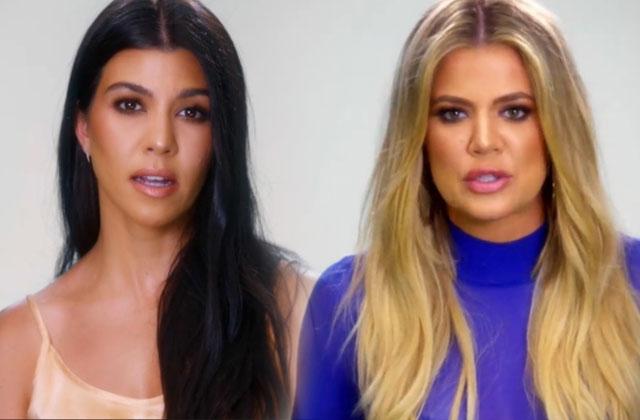 On last night's episode of Keeping Up With the Kardashians, the Kardashian/Jenner clan headed to Vail, Colorado, for a warm and fuzzy reunion. But by the end of the luxury getaway, the family felt more fractured than ever.
As per usual, the drama was sparked by the family black sheep, brother Rob, 29. Though the reclusive sock designer was scheduled to attend the trip with everyone else, he backed out last minute, leaving mom Kris and the sisters "disappointed."
Article continues below advertisement
"It makes me so sad that Rob's not coming on the ski trip," Kris, 60, told the cameras, in a seemingly genuine moment. "Making another memory without him truly breaks my heart."
Initially, everyone had a great time skiing, eating candy, and playing Cards Against Humanity with old friends the Kolkers and the Kraines. (The three families would travel to Vail every Thanksgiving with Kourtney, Kim, Khloe and Rob's father, Robert Sr., until his sudden death in 2003.)
But Khloe, 31, couldn't help but feel bummed about Rob's absence.
"I can't stop thinking about my brother," she said. "He's the one piece of the puzzle that's missing."
Khloe's sadness soon turned to anger when she and her sisters learned via social media one morning that Rob had proposed to new girlfriend Blac Chyna behind their backs.
"We were talking to him at dinner last night!" she fumed. "It's so f***ed up he did that."
MORE ON:
Kourtney Kardashian
Article continues below advertisement
Kim, 35, agreed, slamming Rob's move as "hurtful."
But Kourtney, 37, took a more sympathetic approach.
"My brother is the happiest I've seen him in a long time, and I hope everything is genuine and sincere," she told the cameras. "Why cause any tension or add any drama?"
She then told Khloe perhaps Rob didn't share the news because she and other family members were so "judgmental."
"I think he's a lunatic," Khloe countered.
"That's exactly why he didn't tell you, because you'a re f***ing b****!" Kourtney snapped.
The engagement drama will continue in next week's episode.
Are you on Team Kourtney or Team Khloe? Sound off in the comments.